Batool Banihani, Project Manager, WOSEN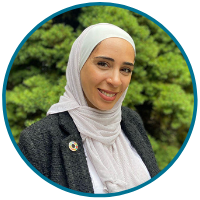 Batool identifies as a change maker. She is a creative and engaging leader with a system thinking focus. She is a compelling storyteller and a facilitator who holds spaces for deep community dialogue.  
She has led a diverse portfolio of collaborative sustainability projects to maximize social, environmental, and economic impact. Her mission is to design programs that foster awareness-driven action towards equitable communities and a healthy environment. She is known for tightly knitting her teams and leading them through transformational change because she believes that we can only solve world problems together.
As a Project Manager for the Women of Ontario Social Enterprise Network (WOSEN)  at Pillar Nonprofit Network, Batool hopes to build a continuous learning culture within Pillar and continue to communicate irreversible change that all women feel a need to voice.