PLEASE NOTE: Registration is closed.
If you have any questions please contact Julie Forrester at secoach@pillarnonprofit.ca or call 519-433-7876 x213 
----------------------------------
21-Oct-2017 - 9:30 am to 4:00 pm
04-Nov-2017 - 9:30 am to 4:00 pm
06-Dec-2017 - 5:00 pm to 7:00 pm (Optional Pitch Competition)
Here at Pillar, we understand social enterprise. We know that social enterprises want planning and supports that include the triple bottom line of social, environmental and economic good. In our Accelerator Program, not only will you get your business model going but we will be there to coach you as you develop your why and pitch your business idea.
Are you at the ideation stage? Have a product or service you are looking to test? Looking to expand to a new market? You can be at any stage of your enterprise to participate!
The Accelerator uses the Lean4Flourishing business model approach to rapidly test, adjust and move forward. Our Accellerator workshop will enable you to:
-Ask powerful questions to enable innovative enterprise design
- Co-create a business model with your stakeholders
- Examine the system around you for innovative ideas
-Learn by doing through visual collaborative business model design
-Develop the knowledge, skills and attitiude required to build Flourishing Enterprises
Pitch Competition and Prize: After a practice pitch session and feedback on Day 2, entrepreneurs will be invited back to an optional Pitch Competition night on December 6 from 5:00 - 7:00 PM where they can pitch their business case with the opportunity to win a $1500 prize. This event will be open to all participants and the public. Community judges will decide on the winner.
Contact socialenterprise@pillarnonprofit.ca for more information and to ask about bursary availability
Agenda:
Note: Entrepreneurs will be expected to do pre-work on the online platform PRIOR to the accelerator.
Day 1: October 21- 9:30 AM - 4:00 PM
Vision and Introduction to Enterprise
Compelling Future Vision
Business Model Development: Stakeholder Discovery
Business Model Development: Testing part 1
Day 2: November 4 - 9:30 AM - 4:00 PM
Business Model Development: Testing, Part 2
Business Model Execution
Storytelling Session
Debrief, pitch practice and feedback
Day 3: December 6 - 5:00-7:00 PM  
Pitch Competition (optional event) 
Target Audience: Nonprofit and for-profit social enterprises at any stage of your enterprise journey
Additional Investment Information:
The real value of this 2-day program is $300 (member rate) and $370 (non-member rate). 

It is being subsidized through a grant and generously funded through the Ministry of Economic Development and Growth's ONE Social Enterprise Partnership.

Bursaries are available. Please reach out to Megan at socialenterprise@pillarnonprofit.ca or 519-433-7876 x228
About the presenters:

Julie Forrester has worked with a community organizations, businesses, and individuals to develop innovative solutions to complex social and economic problems.  Julie graduated from Ivey Business School at Western University and leverages her business skills to drive community impact.  She specializes in building sustainability through business principles and coaching individuals and organizations developing new social enterprise initiatives. She is passionate about culture and travel and has worked in Uganda and Bolivia empowering communities through micro-finance and entrepreneurship. In addition to her role at Pillar, Julie co-manages Impact Loan, a Goodwill Industries program supporting start-ups in London.
Megan O'Neil-Renaud dreams of a world where the fridge fairy restocks the fridge with fully cooked, delicious meals every time someone opens, then closes, then opens the door. When she's not dreaming of food Megan is working with fellow socially-minded organizations. She is the founder and previous Executive Director of One Tomato, a social enterprise dedicated to growing sustainable communities, one tomato at a time. In 2012, Megan graduated from Western with her Master's Degree in Public Administration and also was awarded the Queen Elizabeth II Diamond Jubilee medal for her work in the community. Megan's creative outlet is photography, particularly of people, their horses and their dogs. People and their critters create organized chaos which is a really fun way of capturing people at their most happy, something that is always Megan's goal.
Andre Vashist is a social innovator passionate about building inclusive communities. Currently managing VERGE Capital, a social finance intermediary based in London, Ontario, Andre is building a market at the intersection of money and meaning. Using a community-based framework, VERGE increases access to capital for social enterprises and connects impact investors to opportunities and products that provide social/environmental and financial returns. 
VERGE operates a Social Enterprise Loan Fund and leads development of new products to build out the impact investing market, like the Innovation Works Community Bond that raised $1million in 2016. VERGE is a community collaboration of partners and investors including Libro Credit Union, London Community Foundation, Pillar Nonprofit Network, Sisters of St. Joseph, and United Way London & Middlesex. 
As a social entrepreneur, community development professional and impact investor, he has a combined 15 years of experience. Andre has served on committees for the YMCA of Greater Toronto, United Way Toronto & York Region, Laidlaw Foundation and was selected as an Agent of Change by the Centre for Social Innovation.
Thank you for the generous support of Ministry of Econmic Development and Growth's
ONE Social Enterprise Partnership 

and London Economic Development Corporation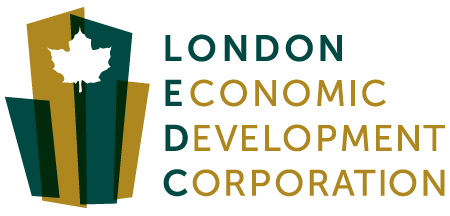 Thank You to Our 2017 Professional Development Sponsors: