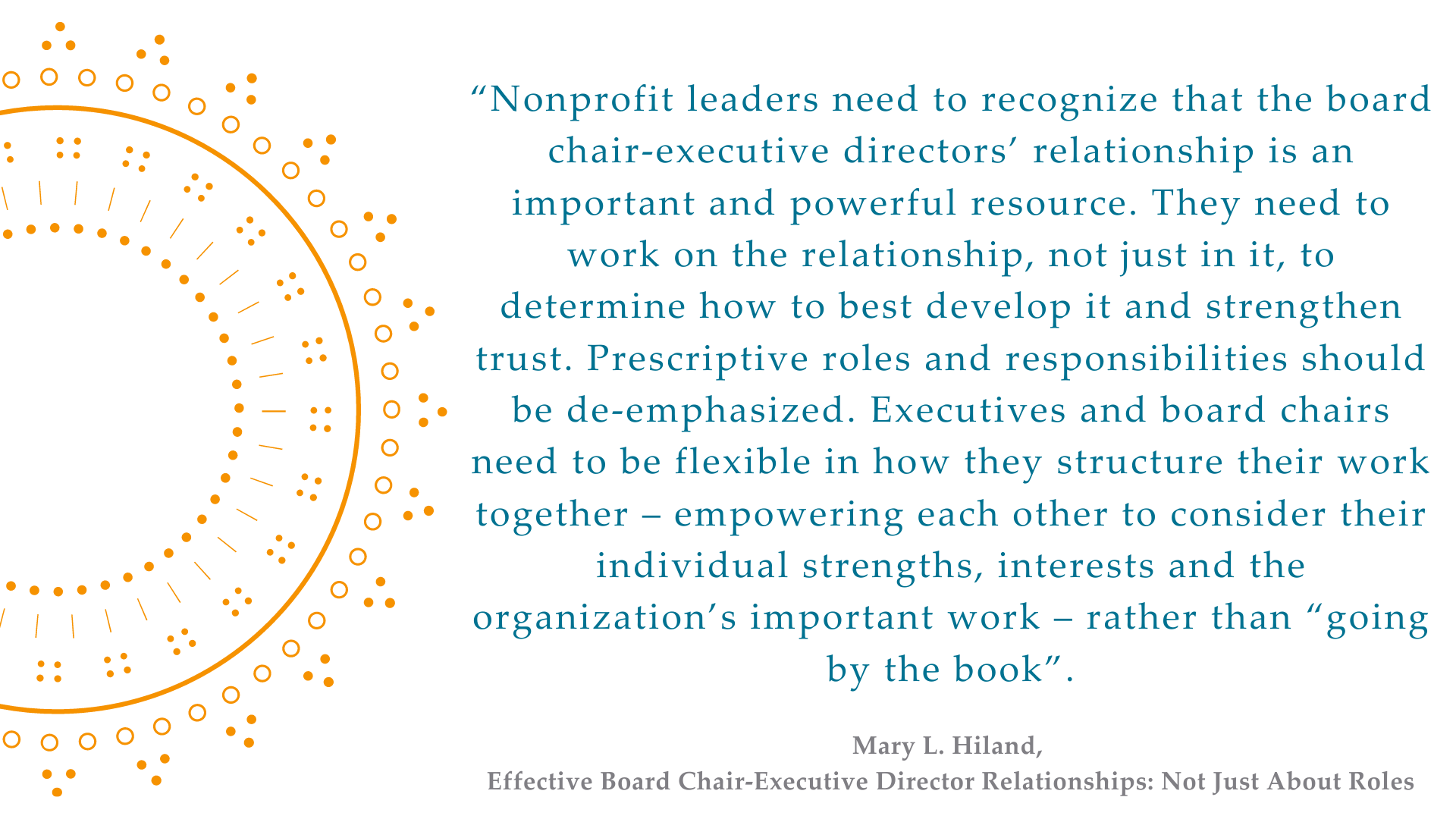 The success of your organization begins with your Board Chair - Executive Director team.
Building and nurturing this dynamic relationship must be a priority. It is an important and powerful resource that can be leveraged in support of the organization's mission. 
Research shows that achieving high trust and a productive partnership between the Board Chair and ED is possible when the following behaviours are consciously developed – flexibility, give and take, dialogue, frequent check-ins on the relationship not just tasks, reciprocity and aligned vision & purpose.
Our Partnership Program was created to help EDs and Board Chairs design their working alliance to create a relationship rooted in trust. When misalignment, misunderstanding and/or distrust occur in the relationship, it impacts the culture of the board, can be felt in board meetings and can produce harmful disengagement. However, when this partnership flourishes, it creates the conditions for a high-performance board governance culture and produces transformational outcomes for the entire nonprofit.
LEARNING OBJECTIVES
Strengthen your organizational culture. 
Design a working alliance that will ensure both parties are well supported and can thrive in their roles

Discover your Strengths. 
Introduction to Strengths Based Partnering

Build trust. 
Create conditions for a high trust relationship

Increase effectiveness. 
Clarify expectations that inform roles and responsibilities

Design effective and constructive communication.
In a shared leadership model the board chair and executive director must work collaboratively to manage conflict and support strategic decision-making

INVESTMENT INCLUDES
Two sessions (½ day each)

A CliftonStrengths assessment for each participant and other resources to support learning and skill development

Each Board Chair & Executive Director Partnership will select 2-3 intentions for action in between sessions

Tips for effective Board meetings with a focus on agenda preparation, how to present recommendations, and facilitate good discussion to support strategic decision making

Networking with other local directors

BURSARIES AVAILABLE
(Note: Bursaries must be granted before you register)
Thanks to the Willy Van Klooster Nonprofit Governance Scholarship, we are able to offer this program at 50% off to 10 organizations in our community that fit the criteria. 
The Willy Van Klooster Nonprofit Governance Scholarship was developed to honour Willy's exemplary leadership in board governance as the founding and long-serving chair of Pillar Nonprofit Network. Through the experiences of past recipients, we learned the deep value of strengthening the relationship between the Board Chair and ED. At Pillar, we promote it as a key best practice that Board Chairs and Executive Directors have some intentionality around their relationship. 
BURSARY CRITERIA
Organizations are eligible to apply for the award if they meet the following criteria:
Operating budget of $500,000 or less

Registered Nonprofit

Board Chair and Executive Director must be at both sessions
Must be Pillar Members 
Must submit application form
Available to 10 organizations
Please complete the bursary application before registering. Upon completion we will review and reply with registration details (including discount code). Bursaries are first come, first serve. 
To apply, click HERE.

TARGET AUDIENCE: Incoming or established Executive Directors and Board Chairs 
ABOUT THE PRESENTER:
Janet Frood is the founder of Horizon Leadership and is an internationally certified executive, leadership and team coach. She partners with her clients as they explore bold transformation in their life, leadership and organizations. Prior to becoming a coach, Janet worked for 20 years in the nonprofit sector in higher education, health care and consulting. She was an Executive Director and has also been a Board Chair and on many Boards. In her practice, she coaches ED's and Board Chair partnerships as they design their working relationship to maximize their alignment and support conditions for highly effective governance. Janet is also a proud member of the Innovation Works London community.