Join us for a community conversation and virtual chat with Senator Ratna Omidvar to talk about equity and inclusion in our country and the changes needed in the nonprofit and charitable sector to create a more engaged, inclusive and vibrant Canada. 
During this chat we will explore why boards should reflect the community it serves, anti-racism, the charitable regulatory environment, creating a home in government for charities and much more.
Conversation to be facilitated by Dharshi Lacey, Director, Diversity & Governance and Michelle Baldwin, Executive Director.
About the Presenter: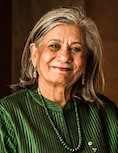 Ratna Omidvar is an internationally recognized voice on migration, diversity and inclusion. She came to Canada from Iran in 1981 and her own experiences of displacement, integration and citizen engagement have been the foundation of her work. In April 2016, Ms. Omidvar was appointed to the Senate of Canada as an independent senator representing Ontario. As a member of the Senate's Independent Senators Group she holds a leadership position as Liaison. Senator Omidvar also served as Deputy Chair of the Special Senate Committee on the Charitable Sector.
Learn more about Senator Ratna Omidvar HERE.  
Learn more about the Senate Special Committee on the Charitable Sector report Catalyst for Change: A Roadmap to a Stronger Charitable Sector HERE.
Senator Ratna Omidvar wrote and published the following article in the Philanthropist -  Recognizing and Addressing Racism: An Open Letter to the Leadership of Canadian Charities and Non-Profits 
Thank you to our 2020 Learning & Development Sponsors: