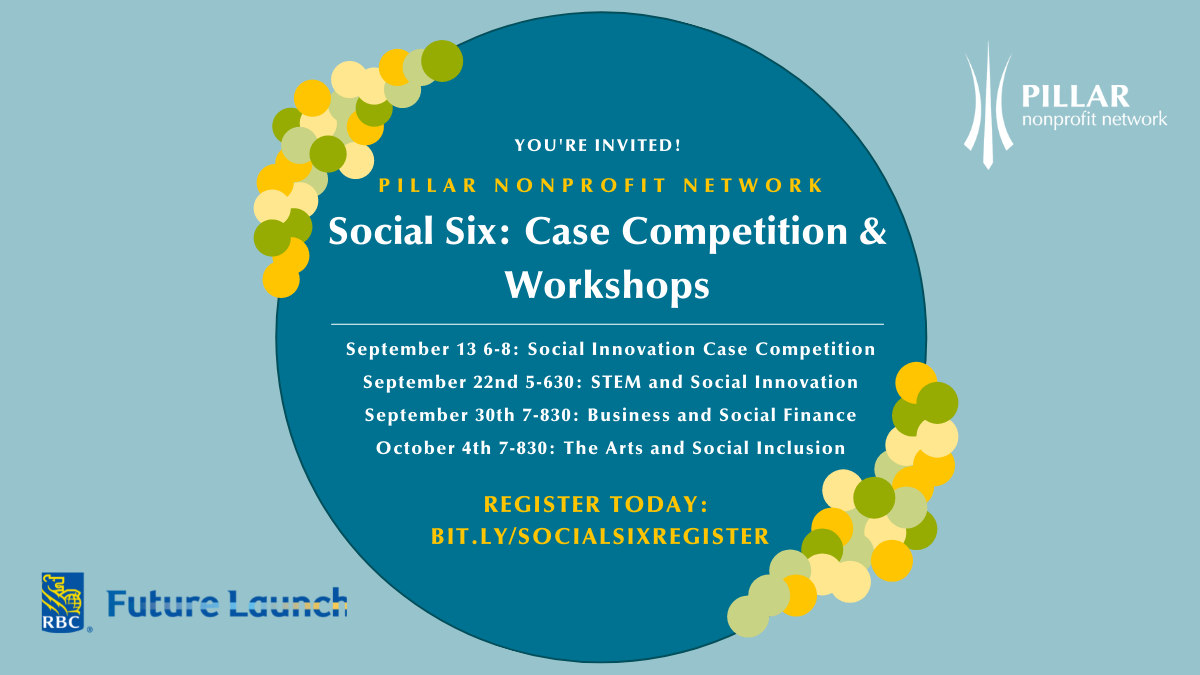 Pillar Nonprofit Network presents the Social Six case competition and workshops providing youth 14 - 25 the opportunity to learn, innovate and network with their peers and social impact professionals. As a participant, you will gain the opportunity to tackle a relevant community issue, gain crucial entrepreneurial experience and learn about key social competencies. 
Through these events, you can boost your resume, earn a certificate awarded by Pillar Nonprofit Network and earn community service hours. Not interested in a case competition? Try out a workshop instead. You can register for as many or as few events as you'd like!  Register now to learn more about activism, innovation and networking: https://bit.ly/socialsixevent. 
Key Dates 
September 13, 6:00 - 7:30: PM - Case Competition
September 22, 5:00-6:30 PM - STEM and Social Innovation
September 30, 7:00 -8:30 PM -  Business and Social Finance
October 4, 7:00 - 8:30 PM - The Arts and Social Inclusion
Program Details
Case Competition: With a focus on social impact, young people will immerse themselves in a real-life situation meant to build their professional skills and critical thinking. May the best solution win!  

Workshops: In groups, you will tackle a key issue and create idea pitches, no experience required! Each workshop will focus on the intersection of an emerging social competency and a traditional field of study (STEM, Business, Arts). You gain the chance to connect with a professional in the industry and learn how they apply social innovation. 

Target Audience: Youth ages 14-25 can participate
Learn more about Pillar Nonprofit Network's Social Six program. 
Please note that there is no fee to attend these events due to the generous support we received from RBC Future Launch.