Do you have a complex problem that you and others have been trying to solve? Is your organization or group feeling 'stuck' in old patterns that need to change?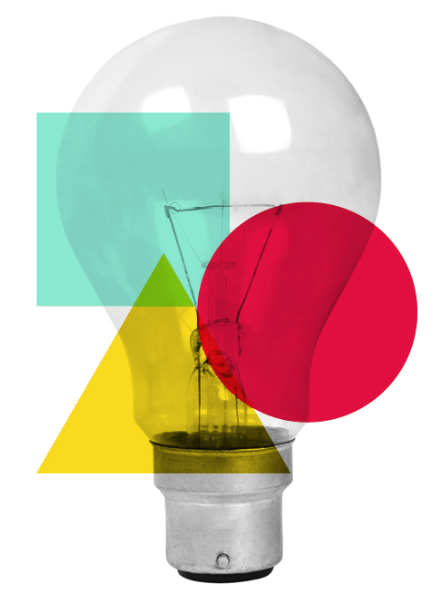 You are invited to join us for this 2-day event where we will explore, challenge, design and help people make progress on complex issues impacting our community. 

The first step is to collect a team of diverse thinkers who care about your challenge and invite them to join you for this two-day lab. Or attend as an individual and we can build some teams on the day of the event to work through your challenge with other individuals. 
What types of issues/problems can we work on? Learn more >>> 
These are some groups and their issues already forming:

A stronger and effective collaboration around workforce planning

International development, solidarity, community building 

Diversity in our community

Financial security and literacy of the millennial generation (looking for others to join this table)

Food access (and how The Salvation Army can create a new model for the area)

Food security

Creating a vibrant and inclusive London that celebrates and fosters leadership 

Reimagining education

Violence Against Women (how to help people understand the issues, stop blaming women and talk meaningfully about equality for women)
Some possible topics/issues you could explore, challenge and design solutions for:
Local economy/Business sustainability/Corporate Social Responsibility
Local food systems
Welcoming newcomers
Removing stigma of mental health challenges
Reduce, reuse, recycle
Challenges in our justice system
Accessibility and removing barriers of physical disabilities
Creating opportunities for citizen engagement / learning
Creating connections for co-housing for seniors 
And more.... 
Working in isolation doesn't solve our most complex problems. Working together on our community's toughest issues will help you take your initiatives further and create a greater impact. 
People need time, space and process to support them as they identify needs, explore possible solutions and create positive change.
Time to think, pause, play and explore ideas for solving your challenge
Space (both real and virtual) to meet, collaborate, share, understand one another and create together
A Process for how to approach problems and time for deep listening, reflection, collaboration and design thinking to create breakthroughs and a way forward. 
"Do you know that feeling that you get after a long walk, when things become clearer? When you slow down and you see the whole problem before you, rather than just drowning in reacting to pieces of the problem. Every year I go to Bayfield to slow down, write, talk with my Dad and I always make large life decisions by the end of it. I see the Solutions Lab as being a similar kind of experience, a two day presencing experience where you and a team will be given  space to find your moments of clarity."
Matt Ross, Entrepreneur & Community Leader 
The goal of the Solutions Lab is to enhance a culture where people feel safe to:
Try new things

Learn from mistakes

And try again
The elements of our solution lab: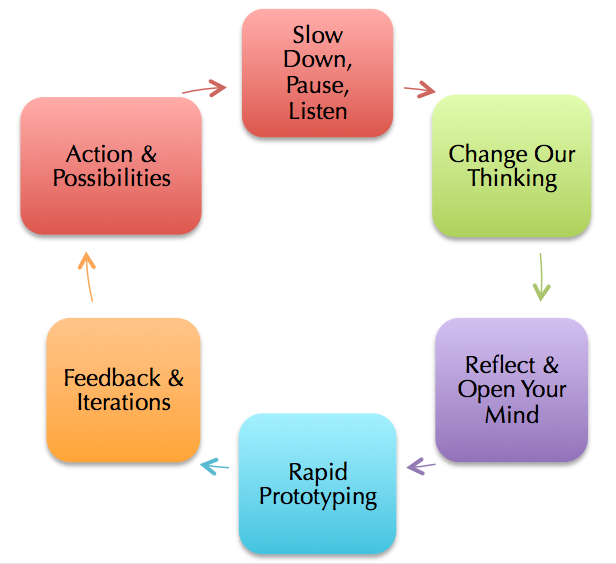 Day One:

Breaking Down Mental Models
Generative Listening & 

Collaboration Techniques

Group Work
Reflection
2D Prototyping
MarketPlace

Day Two:

Mindfulness in Practice
3D Prototyping
Feedback Coaching
4D Prototyping
Reflection
Group Action Planning
Next Steps
How to register: Once you have at least three or more committed participants for your table, register and pay for the attendees. You can continue to collect your team. Our facilitators can also assist in recruiting stakeholders who want to join you. 
Investment: $125 per registrant (tables of up to 8 people)
Fee includes 2 lunches and snacks on both days.
What is expected of you and what can participants expect?:
We are looking for groups (maximum 8 individuals) .You can be an existing collaborative or starting a new group.

Groups should be diverse. Consider including people with lived experience, experts in your field, people representing all sectors (government, academia, business and nonprofit) and devil's advocates who will challenge your thinking.

Select the wicked problem you want to discuss

Be open to creativity and exploration for 2 full days - we plan to have fun! 
Location: Brescia University College, Mercato Room - Learn More >>> 
Target Audience: Collaborators, Leaders, Advocates, Citizens, Changemakers, Change Agents, Doers, Disruptors, Dreamers
About the Facilitator:
Chris Moss brings a unique flair to her facilitation & leadership development practice. She has a deep community passion, and has worked closely with nonprofits, municipal governments, academia, communities, businesses and social entrepreneurs who care about where they live and the impact they have on society.
With seventeen years of hands-on leadership experience and a Masters of Arts Degree in Leadership, Chris understands the pressure of leading organizations and the challenges of elevating them to new heights in their community. Recently certified at M.I.T. in Boston in the U.Lab Process, Chris uses U Theory, as well as other design thinking methodologies, to help her clients build innovative concepts that will solve some of our community's most difficult social issues. Chris works to develope young leaders, re-energize older ones and create caring, innovative and authentic leaders who really want to have a positiv impact on their part of the world. Learn more about Chris Moss Leadership Consulting here. 
About Innovation Works and the London Life Solutions Lab:
Innovation Works is a collaborative community filled with socially minded innovators dedicated to positively transforming our community. Located at 201 King Street, it is a 32,000 square foot building in central Downtown with endless possibilities. Innovation Works is the only place in London that is intentionally designed to encourage social innovation.
Through the help of an Ontario Trillium Foundation grant and sponsorship by London Life Insurance Company, Innovation Works will launch the London Life Solutions Lab in our community to address our most wicked problems. We will work closely with the MaRS Solutions Lab to bring components of the London Life Solutions Lab model to London. Learn more about Innovation Works here.
This event is a prototype for future London Life Solutions Labs hosted by Innovation Works.
Still have some questions? Check out the FAQ page here. 
 
We need to say thanks to a few people who made this event possible: