Workshop with Margaret Wheatley

Who Do You Choose To Be?
A Call for Life-Affirming Leaders to Step Forward
We need leaders who recognize the harm being done
to people and planet through the dominant practices that
control, ignore, abuse, and oppress the human spirit.
We need leaders who put service over self,
stand steadfast in crises and failures, and
who display unshakable faith that
people can be generous, creative, and kind.
Margaret Wheatley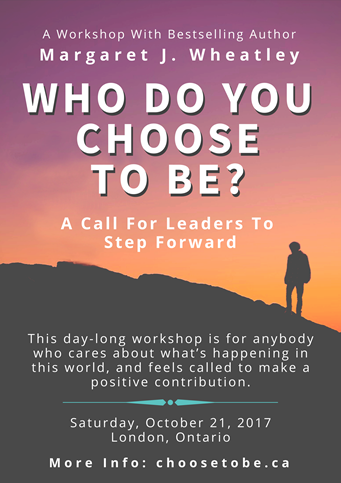 For many years, Margaret has defined a leader as anyone willing to step forward in service to a person, situation, cause, or organization.  Most of us fit this description as formal or informal leaders, citizens, community members and/or parents.  At this time when fear and polarization predominate, and people find it increasingly difficult to work well together, how do we offer wise leadership?  How do we use processes that do not add to fear and aggression?  How do we cultivate the skills of patience, compassion and insight, so that we find viable solutions to the complex problems that confront us? 
These are critical questions for all who desire to make a positive contribution during this time of profound disruption and continuing assaults on the human spirit.  And answers are within reach if we reinstate the most essential skill of being human: thinking and reflecting. 
This day long workshop is an opportunity to reflect and respond to the question: Who do I choose to be in service to this time?  And to explore this in the company of like-minded others who also want to be discerning and compassionate leaders. 
Using a variety of personal and collaborative processes, we will:
Explore how the dynamics of this time-- speed, distraction, aggression, overwhelm, exhaustion—are impacting your leadership and you personally

Identify the conditions that call forth your best leadership by recalling those times, as a leader, you are most proud of
Understand the dynamics by which all living systems develop in healthy, self-organizing ways.  Determining how to move forward in your own leadership by partnering with these dynamics
Convene a community of learning and action going forward from this day, to support one another in your life-affirming leadership. 
Target Audience:
This workshop is for anybody who cares about what's happening in this world, and their desire to make a positive contribution. It is for formal, informal, emerging and experienced leaders of all organizations, including business, nonprofit, government and community groups. It is for individuals or groups that are facing turmoil, change and increasingly difficult situations who are looking to claim their seat as leaders to restore and reinvigorate our best human qualities of generosity, creativity and community.
Bursary Opportunity:
Please note bursaries are no longer available. 
Investment:
Individual Ticket: $195.00
Table of 7 people: $1,000.00 
*Pillar's Professional Development Registration Policy will apply to this event. Please see the policy HERE 
About the Presenter: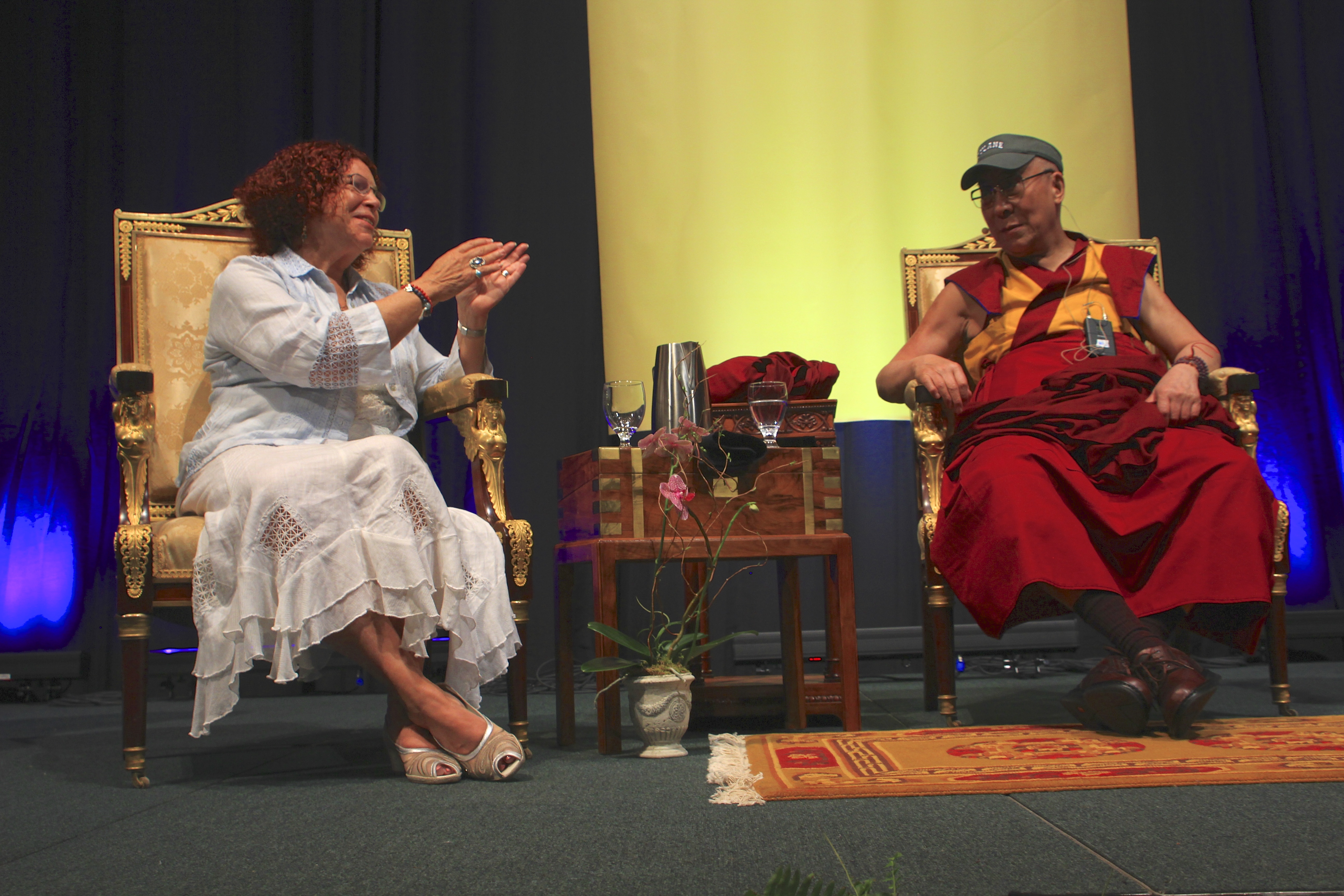 For more than 40 years, Margaret Wheatley has worked globally in many different roles, as a speaker, teacher, consultant, advisor, formal leader. From the deep and varied experiences, she has developed an unshakable conviction that leaders must learn how to evoke people's inherent generosity, creativity, and need for community. As this world tears us apart, sane leadership on behalf of the human spirit is the only way forward. She is author of nine books, from the classic Leadership and the New Science in 1992 to her newest book (June 2017) Who Do We Choose To Be? Facing Reality, Claiming Leadership, Restoring Sanity. She continues to be honored for her groundbreaking work by many professional associations, universities and organizations. www.margaretwheatley.com. 
This full day workshop will offer time to be in deep and enriching conversations together, exploring the ideas and practices of what it means to be an effective leader for this time.   
At the close of the workshop, you will be invited to be part of a learning community - to  step forward and support one another as life-affirming leaders making positive contributions.                                        
This workshop is being hosted by the following community members:
Leslie Collins - Cheshire
Mary Jo Dunlop - Cheshire
Judi Fisher - Cheshire
Janet Frood - Horizon Leadership
Susannah Gergich - Pillar Nonprofit Network
Sue Hillis - Dale Brain Injury Services Inc.
Kathryn McLeod - Escape Digital
Jane Parkinson - Western University
Heenal Rajani - Innovation Works