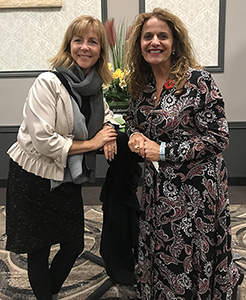 Lore Wainwright, Director of Operations, Innovation Works, has been recognized by the London Community Foundation (LCF) with their Vital People Award. LCF believes that leaders in the charitable sector play a significant role in creating an inclusive community for everyone. Their Vital People Award recognizes individuals working in the London, Ontario and Middlesex County charitable sector with funding for professional development.
The Foundation believes that investing in the professional development of leaders in the charitable sector will lead to strengthened organizations and greater impact in our community. Thanks to this award, Lore was provided with exceptional professional development through Nicki Weiss and Janet Frood of Horizon Leadership. Some key highlights of this training included work on team dynamics in moments of change, and working with Pillar's Executive Director in a dual-coaching sessions to work through transition plans.
The professional development activities were well integrated into our "Epic Tale" exercise with the whole Pillar team as we looked at honouring the past and moving towards a future of trust and generosity. The organization has been going through a period of tremendous change and this coaching has positioned us in a way that has helped us in the change management process. It's with this type of support that the impact work that we do is amplified.