Organization Name: 427 (London) Wing Royal Canadian Air Force Association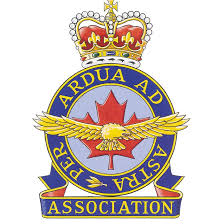 427 Wing is located in a 1940 WWII Airmen's Canteen, on the grounds of London International Airport. The vintage building evokes the history of the aircrew that trained at No. 3 Elementary Flying Training School and No. 4 Observer School of the British Commonwealth Air Training Plan. RCAF Station Crumlin remained open after WWII, becoming part of the post-war RCAF, with name changed to RCAF Station London.
Today volunteer members of the non-profit Wing maintain the Spirit of Flight Museum on-site and the Spooner Memorial Garden. Wing members visit and support veterans at Parkwood Hospital and promote wellness by contributing to the Parkwood Veterans Care London Operational Stress Injury Clinic. This specialty clinic promotes mental health services and addresses the complex issue of post-traumatic stress disorder. The Air Cadet program also receives funds from the Wing to continue development of youth interested in aviation. Subsidies and training are provided to assist young cadets studying for their private pilot license or gliding license.

There is a wonderful social aspect to the Wing. Friday lunches welcome former pilots, veterans and their families and the public, who enjoy delicious meals prepared by Member Flo and her hard-working kitchen crew. Weekly euchre dates are open to the public. Bus tours such as the upcoming June 6, 2019 trip to the Canadian Historical Aircraft Association Museum in Windsor, and Pelee Island Winery are popular and affordable. There are dynamic presentations by interesting speakers. Recently, author Glad Bryce, highlighted the service of RCAF Women's Division members and Nursing Sisters during WWII, as the Wing celebrated the 95th anniversary of the RCAF.
As a new member, I see the importance of preserving aviation history in London and honouring the veterans who served, and continue to serve. There is an urgent need to encourage new members, to support elderly members carrying a heavy volunteer load. 427 (London) Wing members contribute to our community financially and holistically, by continuing to celebrate the accomplishments of RCAF members, responding to needs as they arise, and continuing to educate and welcome everyone.
by Linda Brimson, Wing Member
Learn more about 427 (London) Wing Royal Canadian Air Force Association at www.427wing.com or email info@427wing.com.  
---
Member Moments highlights our members, sharing stories about what's going on in our community. 
Does your organization want to be included? Email membership@pillarnonprofit.ca.