United Way Elgin Middlesex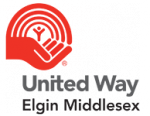 Locally driven and governed, United Way is a non-denominational, registered charity dedicated to improving the quality of life of all people in our community and helping individuals, families, neighbourhoods and communities reach their full potential.
United Way is a leader in understanding the root causes of social issues and bringing together people and resources to find lasting solutions. United Way is creating real change in people's lives - meaningful, positive, lasting change. Not just for today, but for the long term. And that means a better community for us all. Inspiring people to come together, we have the power to make a real difference, in people's lives and in our community.
Get Involved:
Volunteer Opportunities, Jobs & Events
| Post date | Title | Body |
| --- | --- | --- |
| May 11, 2022 | Coordinator, Labour Programs and Services | Work Hours: Monday - Friday, 8:30 a.m. – 4:30 p.m. | Schedule is flexible to reflect meetings outside of regular business hours. Application Deadline: Friday, June 17, 4:30 p.m. About United Way Elgin Middlesex United Way's mission is to improve lives and build community by engaging individuals and... |
| May 10, 2022 | Manager, Volunteering and Training (Permanent) | About United Way Elgin Middlesex United Way's mission is to improve lives and build community by engaging individuals and mobilizing collective action. The most important thing United Way can do for our community is to use our reputation, relationships and expertise to bring together our community... |
| August 16, 2019 | 3M Harvest Lunch | 2019 United Way 3M Harvest Lunch Join us for Elgin & Middlesex's favourite community celebration! Enjoy a delicious deli-inspired lunch, served up by generous volunteers as you mix and mingle with people from local businesses, community organizations and United Way funded agencies. This event's... |
| September 14, 2018 | United Way 3M Harvest Lunch | Gather your friends and join us for London's favourite community celebration, the United Way 3M Harvest Lunch. Get in on the buzz with good friends, good food and good fun, all for a good cause. |
| February 27, 2018 | GenNext presents Square Peg, Round Hole: Pushing Past Taboo | Join us for Square Peg, Round Hole – brought to you by GenNext. Expect the unexpected at our signature event that will have you pushing past taboo. This interactive and engaging evening will offer an opportunity to delve deeper into how poverty affects our local community. Gather your friends and... |
| January 10, 2018 | The Memphis Jam | This is the sixth appearance of the Memphis Jam at Aeolian Hall. Prior events have sold out early so you are encouraged to purchase tickets well in advance to avoid disappointment. The Memphis Jam, founded by Gary Lima (lead guitar and vocals) and Hayden Vialva (drums), is rounded out by Jeff... |
| September 28, 2017 | Scotiabank StairClimb - Climb Like a Canuck | The 22nd annual Scotiabank StairClimb for United Way is a major fundraising initiative for United Way London & Middlesex. Since the event's inception, our community has raised over $2.43 million in donations to support United Way funded programs and services in London and Middlesex County. The... |
| July 18, 2016 | United Way Campaign Launch & 3M Harvest Lunch | This annual community event is often hailed as one of London's best networking lunches. Join us for a delicious deli inspired lunch as we officially kickoff of the United Way London & Middlesex Campaign. The lunch is served up at Budwesier Gardens by loyal 3M volunteers to a wide cross section... |
| August 11, 2015 | United Way Campaign Launch & 3M Harvest Lunch | The annual and highly anticipated United Way Campaign Launch & 3M Harvest Lunch is the official kickoff of the United Way London & Middlesex campaign. A delicious deli inspired lunch is served up at Budwesier Gardens by loyal 3M volunteers to a wide cross section of 3000 members our... |
| June 9, 2015 | Youth CI Information and Engagement Session | Youth CI , a partnership between The Laidlaw Foundation, the J.W. McConnell Foundation's Innoweave initiative, and the Government of Ontario, helps enable organizations across Ontario to develop, launch, and implement Collective Impact initiatives that directly improve outcomes for youth in their... |