Pillar Nonprofit Network is a nonprofit, charitable organization. Pillar Nonprofit Network supports nonprofit organizations in fulfilling their missions in our community. We provide leadership, advocacy, and support to the nonprofit sector through the promotion of volunteerism, professional development and networking opportunities, and information sharing.
Registered Charitable Number:
BN: 863419933RR0001

Donate Online
Donate securely online with your credit card through CanadaHelps, and you can receive a charitable receipt immediately by email. Give a one-time donation, or monthly donation.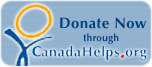 If you have any questions, or would like to learn more about how you can support Pillar, please contact:
Melanie Riley
,
VP, Resource Development,
by calling 519-433-7876 x244.

Donate by Mail, E-transfer, or Pre-authorized Debit
Download and complete the
Pillar Nonprofit Network Donation Form
and mail it to Pillar Nonprofit Network with a cheque or to get started with donating by e-transfer or monthly donations via pre-authorized debit. 

Please make cheques payable to Pillar Nonprofit Network and send to:

Pillar Nonprofit Network
Attn: Resource Development
Business and Corporate Support