BFM (London) Enterprises Society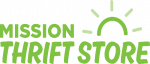 BFM (London) Enterprises Society (branded as Mission Thrift Store) is a Non-Denominational Christian Organization whose Mission is: "Serving to place the Word of God worldwide in a Joint Ministry with Bible League Canada". Mission Thrift Store is a high quality store featuring gently used clothing, furniture, housewares and much more in a pleasant, bright, clean environment. With 11,600 sq. ft. of retail space (and over 19,000 sq. ft. in total) we have the privilege of stocking a large quantity and broad range of products. Mission Thrift Store in London depends on donations from the community and the work of volunteers. Mission Thrift Store sells good used products to raise money to place the Word of God worldwide as well as supplying the region of London-Middlesex with clean affordable goods.
The driving force behind our volunteer staff is a desire to see God's kingdom extended by the spread of his word. This is accomplished by providing funds to Bible League Canada through a Joint Ministry to allow it to minister in many countries, in a variety of ways, including literacy programs, women's micro businesses, after school literacy, pastoral training, and many others. In addition we minister in our local community by providing good quality merchandise at a very reasonable prices. Two elements contribute to our success – Donations of gently used goods and our volunteer workforce.