Good Neighbors Canada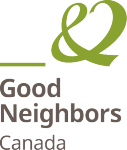 Good Neighbors Canada is one of Good Neighbors' 7 fundraising countries, along with the United States, Korea, Japan, Australia, Taiwan and the United Kingdom. At the same time, we value our local community, so we opened our London, Ontario office in 2017 at Innovation Works, where we can meet other social innovators. 
What we do 
Our focus is on protecting children's rights to make sure every child grows in a safe and healthy environment. 
We have General Consultative Status with the United Nations Economic and Social Council (UN ECOSOC) and are the official partner organization of the United Nations World Food Program (WFP). 
To help build sustainable futures, we specialize in global community development projects involving health, education, water and sanitation and income generation. We also have emergency relief initiatives and a child sponsorship program. 
We work in close cooperation with local partners in 38 countries to assess communities' needs, raising awareness, advocating for change and promoting self-sufficiency. 
Currently, about 16.8 million people, including 9.6 million children are supported by our efforts. 
Let's connect on social media! Use the handle: @helloGNcanada
Get Involved:
Volunteer Opportunities, Jobs & Events
| Post date | Title | Body |
| --- | --- | --- |
| June 7, 2019 | Music for Mirpur featuring Chad Price | Join Good Neighbors Canada as they present Music for Mirpur, a benefit concert featuring Canadian singer-songwriter Chad Price. 7 pm: cocktail party and silent auction, with complimentary hors d'oeuvres 8 pm: entertainment with Chad Price and band. Cause All proceeds will help rebuild a school in... |