Caring Canadians Society (CCS)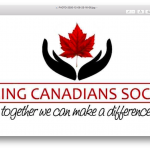 589 Wonderland Road North
Caring Canadians Society (CCS) is a London, Ontario, based not-for-profit, non-political, non-religious organization conducting several charity activities since 2019. Our mission is to provide instant relief. We have worked a lot towards instant relief for the homeless, refugees, settling and struggling individuals and families and have been working very closely with all the shelters and different organizations to support individuals and families in need. CCS runs its own food, clothing and essentials bank at 589 Wonderland Road N since the last two years from where hundreds of families get free items and food donations. 
CCS has provided thousands of PPE kits and hundreds of door-to-door grocery packages since the pandemic and is continuing their activities for the vulnerable in the community. 
CCS charity group comprises approximately 2000 volunteers and donors, most belonging to the Pakistani community in Canada. Since home country (Pakistan) for most of us is an extremely poor country so we are also conducting few charity activities back home such as free school for poor children, education sponsor for less privileged children and orphans, providing wheelchairs for handicapped, installation of water wells and hand pumps in poor areas with no potable water supply, helping poor people set up small businesses for survival, supporting orphans' instant needs, providing free meals for poor on regular basis and providing financial support for medical treatment.
CCS intends to continue their help and support both in Canada and Pakistan.