The following is a reposted web blog post by David Billson. "Pillar Nonprofit Network: A call for Directors". 1 December 2015. Source: medium.com/@davidbillson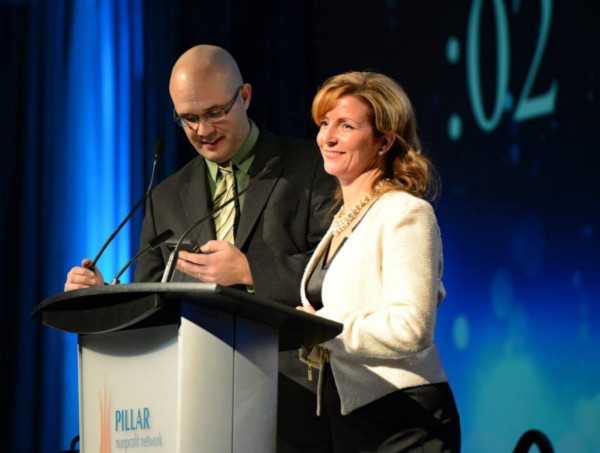 You could look at Pillar Nonprofit Network's call for directors as an opportunity to increase your resume or social capital. I will not deny that these are potential outcomes from your involvement with Pillar.
The case for getting involved with Pillar is a bit more challenging to understand than that of some of the other charities that exist. We measure our success by other organizations being able to fulfill their missions and create more impact. Once you understand the importance of Pillar, it's hard to not come to love the organization.
Please allow me to expand on the other benefits you would gain from considering a role on Pillar's board. My Pillar journey began in 2007, shortly after some financial and identity challenges had the board change the name from "Pillar — Voluntary Sector Network" to "Pillar Nonprofit Network." Pillar had just hired Michelle Baldwin to be its executive director.
I came into the organization as a person who valued operational thinking and measured the value of an organization or the individuals in my life as their ability to get things done. I saw little value in strategic plans, mission statements, values, and all that other "garbage." I shied away from anything strategic as it did not hold my head or my heart — I worked quite happily on specific deliverables, never paying attention to how they fit into the bigger picture.
This operational thinker ran smack-dab into the Pillar strategic planning process in 2007. The organization set several challenging goals — to tell the stories of the nonprofit sector, to double or triple the membership so that we were truly representative of the sector, and to increase local investment in the nonprofit sector through professional development.
The plan was met with some resistance and I admit that I was skeptical — after all, an organization going from 80 members after 6 years of existence to 160–240 in three years seemed unrealistic. The energy of our board of directors and the passion of our executive director led us to believe it could be done.
I witnessed an amazing transformation in the organization as a result of that strategic planning process. The effort put forward into telling stories manifested itself as an improved Pillar Community Innovation Awards — an event that started with 40 people at an annual general meeting to over 800 people at London Convention Centre.
We were able to get our local government on side with some core funding to support Pillar's professional development initiatives that help all nonprofits and charities to better their people and themselves.
The increase in membership was one of the most challenging goals that required both board, volunteer and staff commitment. We had identified that roughly 400 nonprofits and charities in the region were a good fit to join Pillar. I recall joining a task force along with Johnny Fansher and Greg Matthison that called on local membership prospects to encourage them to join our organization as members.
Each week the tally grew. At the end of the three-year plan, Pillar had secured over 240 members. We had gone from an important voice in the community to having a significant number of members that we could help develop, train and advocate on behalf of in our community.
In 2010 Pillar focused on community collaboration which led to the Community Collaboration Forums. We concentrated on collective impact and what we can do together as members of the three pillars of the community: the business, nonprofit and public sectors.
Out of these collaboration meetings the idea for a shared space formed in the collective community's consciousness. Pillar realized that it was in the best position to carry the initiative forward. We began the process of finding a building and landed on the purchase of 201 King Street — the future home of Innovation Works.
In 2013 our strategic direction focused on social innovation with the social innovation shared space being a key component as we moved to purchase and operate Innovation Works.
The importance of strategic planning and learning how to make these plans come to life is one of many examples of free personal professional development I have received as a volunteer with Pillar. The list is quite extensive. In a short summary, here is what I feel I've gained during my time volunteering with Pillar:
A deeper understanding of the importance of strategic planning and alignment between vision, mission, values and your strategic goals.
An understanding of diversity issues that face communities and our community members (and an understanding of my privileged position and what that means).
A better understanding for policy and the importance of having it applied to an organization (I still won't say I LOVE policy, but I have a healthy respect for it).
An appreciation for how good governance can keep an organization moving forward, even when there is turbulence on that organization's flight.
How to engage in public policy and how to have influence in your community.
How the various components of our economy (business, government, and nonprofit) intersect and work together (or in some cases how they work against each other).
The challenges our nonprofit friends face due to archaic funding models, project-based funding and a general lack of support for operational activities.
How to make a pitch for funding to city council for a community project (and to deal with the media when that pitch is unsuccessful).
How to "facilitate the wisdom of the crowd" as a board chair and the importance of consensus (where possible) in a board of directors.
In addition to the amazing things I've learned, here are other benefits I've received from my volunteer time:
Camaraderie and friendships with my fellow board members, both current and past.
Worked with the incredible staff at Pillar.
Developed connections with some amazing community members (too numerous to name in a single blog post).
Got to know several of our local media personalities.
Spoke at events/panels/public consultations that matter for public policy whether locally with city councillors or regionally with special task forces from various ministries from both the provincial and federal government.
Gained the feeling of making a difference in the way London thinks, works and collaborates for a better outcome for all city residents.
When I complete my final year on the board of Pillar it will be the end of a 9-year term. I can honestly say that I believe that I received the lion's share of the benefit from that time. I'm a better community member, better human being, better company manager and stronger strategic thinker precisely because of the time I spent in that volunteer chair.
Pillar, comprised of Michelle Baldwin, its talented staff, my fellow peers on its board and all its members have my respect and gratitude for allowing me to serve.
So, yes, you could build your resume and build your social capital — or you could end up like me and change the quality of your life and those around you.
Now it's your turn to find out — sign up here: http://www.pillarnonprofit.ca/volunteer/call-board-directors-nominations/pillar-nonprofit-network-0
By David Billson
Source: medium.com/@davidbillson