On March 12 and 13 Lina Bowden, Social Finance Consultant and Andre Vashist, Social Finance Manager, VERGE represented London and attended the Social Finance Forum at MaRS. Here's what they took away: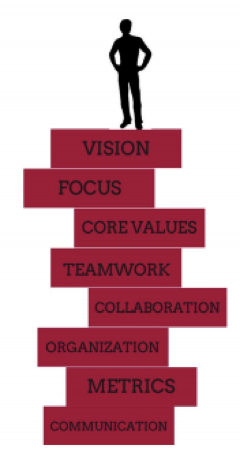 1. Ray Muzyka: Canadian investor, Entrepreneur and Physician
Guide to Effective Leadership for Social Entrepreneurs
Focus - cut through noise, prioritize information and provide clarity. 
Core values - define success, metrics, who are our key stakeholders? (Investors, investees, intermediary supports, partners/staff). When you have challenges use the core values to operationalize solutions. 
Vision 
Teamwork and collaboration 
Organization - system, structure, processes, output based on resources! Quality and scope vs resources and time. Trust in the team. 
Metrics - to define success, and incentives that align with what people value (money, education, recognition, give back, part of organization, art beauty). 
Communication - how do we stay aligned in vision and also allow us to scale our work, how to include feedback and resolve conflicts, effective meetings.
"In preparing for battle I have always found that plans are useless, but planning is indispensable." ~ Dwight D. Eisenhower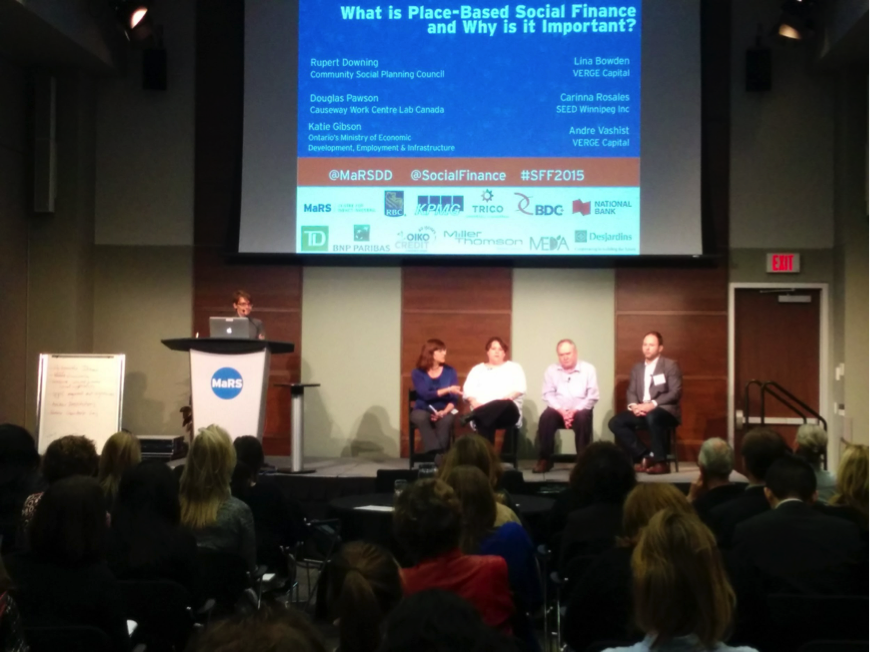 2. Future of Impact Investing: Calvert Foundation, Vancity Foundation, McConnell
3. Impact Investing Market: MEDA, Sarona Asset management, Social Capital Partners, Scotia McLeod (Alan Harman)
Sarona Asset Management - Finance First, screen for performance first then look at impact ie. ESG: Environment/Social/Governance 
ESG does not change world but performs well and lowers volatility 
SRI and ESG is easy way to start impact investing while local market matures. 
Investing approach – Public markets are mainstream therefore shareholders can influence behavior of large institutions vs private markets are made of small purpose built businesses that are hard to scale 
Intermediary plays role in private investments! Public markets rely on SRI and ESG 
Public markets is about liquidity and has good research 
Private direct required time and resource for due diligence 
Guarantee on loans is a way of giving grant but some risk and no return ex -4% + +12% SROI = 8% net 
Emerging markets challenges - currencies, governance and culture 
Local market challenges - CRA limitations: prudent investing means conventional and can restrict impact investing 
How does Canada be global leader? Need catalytic event: 

US: reinvestment act create CDFI + pension funds to consider ESG 
UK create social minded bank through the surplus. 
Canada needs to unlock capital in Pension funds and institutions (60%)
4. Community Foundations
191 community foundations across Canada. 
Community forward fund is a go to financial intermediary for foundation supporting charities: 5-7.5% and pay investors 2-3%, loans are mostly real estate, avg size ($50k-$1mil ) $300k, term 3-5 yrs. 
Governance and leadership is key for culture shift. 
Pipeline - assign consultants, workshops, first 5 years were slow, last 2 yrs picked up! 
Habitat for Humanity - large financing needs.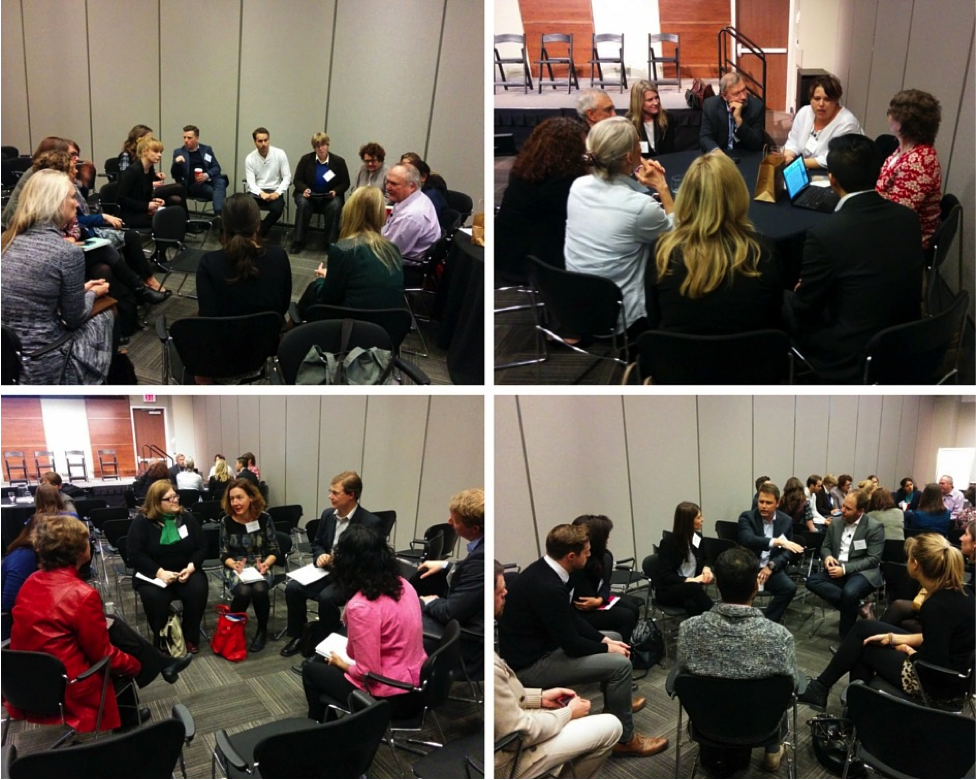 5. B Impact Assessment: B Lab, Ian Martin Group, BDC, Quo Vadis
Influenced business practices 

Tenant lease changed 
Community work 
Local suppliers 
Compost 
Local hiring
6. London, Ottawa, Winnipeg & Victoria: Place-Based Social Finance
What did participants want? Actionable Ideas, rural economies, integrate social finance into local approach, opportunities for regional development agencies, role of anchor institutions, reduce greenhouse gas 
Practitioners of place-based social finance from Ottawa, London, Winnipeg and Victoria shared their work and answered questions, moderated by Director of Ontario's Branch of Social Enterprise. 
What we discussed - Local can mean: neighbourhood, city or region, different tools include bonds, loans, matching investments, everyone has a role, local and national have to interact and collaborate, connect with practitioners, understand slow growth of local markets 
Future of place-based social finance network - explore emerging practices, involve actors willing to share, involve credit unions, incorporate leading local initiatives like Edmonton Social Enterprise Fund & Montreal, and Community Foundations (National Impact Investment Practitioners of Canada)
7. Overall, we learned that we have a growing network of practitioners and the market still has an untapped potential. Thank you to all the amazing we connected with from Edmonton Social Enterprise Fund, RISE Asset Developent, Hamilton Community Foundation, United Way Toronto & York Region, Vancity Credit Union, Community Foundations of Canada, Social Capital Partners, Purpose Capital, MaRS Centre for Impact Investing, Branch of Social Enterprise, Queen's Centre for Social Impact, Causeway Centre, Community Social Planning Council, SEED Winnipeg, Inspirit Foundation, Calvert Foundation, Ottawa Community Loan Fund, ZooShare, Trico Charitable Foundation, BDC, and more!
Check out the recap from MaRS. 
If you have any questions about this material please contact: Andre Vashist, Social Finance Manager at socialenterprise@pillarnonprofit.ca
News Topic:
Social Innovation
Social Finance
Nonprofit Sector Development