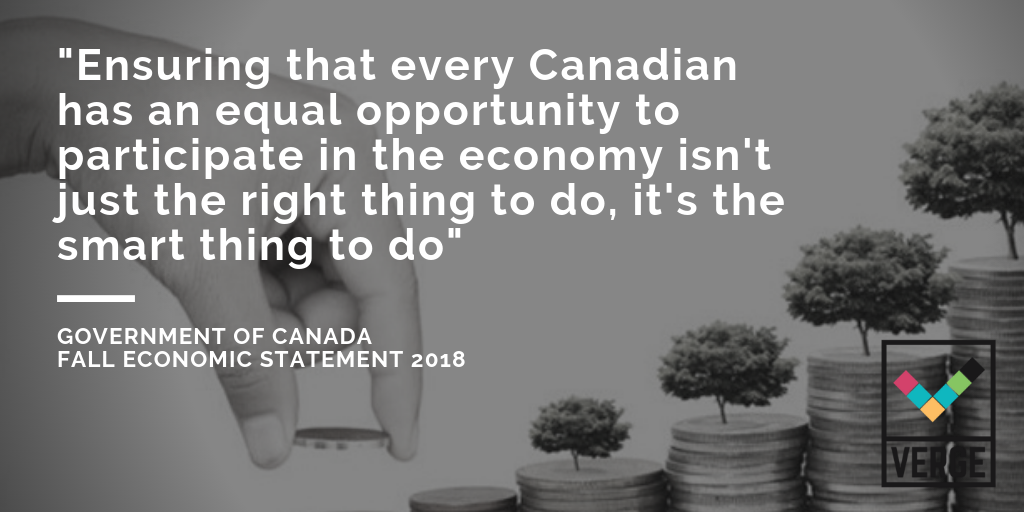 London is one of Canada's leading social finance communities, where collaboration and innovation has already created more than $7 million in additional capital towards an inclusive economy. On November 21st, Canada's Finance Minister Bill Morneau announced a $755 million fund for social finance. An additional $50 million will be made available through an Investment and Readiness stream over the next 2 years. Social finance is the practice of making investments that deliver social and environmental returns, as well as financial.
This is BIG news for London and Southwestern Ontario where VERGE Capital and its local collaborators, London Community Foundation (LCF), The Sisters of St. Joseph and Libro Credit Union, are rallying impact investors, redirecting investment dollars back into our community and supporting important community ventures such as affordable housing developments, community hubs and social enterprises that are solving some of our community's biggest social and environmental challenges.
Pillar Nonprofit Network has helped hundreds of social enterprises scale and grow since 2011. Access to capital is a well-researched barrier to success for social entrepreneurs. The VERGE loan programs enable social enterprises across Southwestern Ontario to obtain needed financing at both the starting and scaling phases of business growth. VERGE was only possible through initial support by the Ontario Government. Now, Federal Government support will catalyze even more dollars to help grow impact investing and the resulting capital it will mean for social enterprises. In addition to the VERGE loans, the collaborators for VERGE have in tandem been adding to the region's capital for an inclusive economy through their own impact investing plans. 
Stephen Bolton, Libro Head Coach, President & CEO shares "In addition to being a VERGE collaborator and investor, we have recently become a BCorp and along with that, have strengthened our commitment to increase our impact investment knowledge and portfolio."
The Sisters of St. Joseph have also been strong partners in creating more capital for good. "Our investment portfolio already includes socially responsible strategies." says Sister Margo Ritchie, Congregation Leader. "However, impact investing allows us to use our resources to promote the
common good and support well-being in our communities. Ultimately we see impact investing as another way to foster community in our world. We are actively making choices to expand our impact investment portfolio."
London Community Foundation, a VERGE collaborator, is also a leader in the impact investing space both locally and nationally. Through their social impact fund, LCF currently has $5 million available to finance affordable housing and social enterprise projects. According to the
Foundation's VP Finance & Operations, Vijay Venkatesan, the goal is to double the $5 million amount in 2019 as LCF continues to align their investments with their mission. "With $3.8 million loaned to date, earning an average 3.5% return since inception, $185,000 has been recirculated
for future growth. It truly is incredible to see the impact that investing can have on our community."
VERGE is a member of the pan-Canadian National Impact Investment Practitioners (NIIPS) Table. We join social finance funds across the country in our recognition of this "big step forward for social finance" We believe this will strengthen an ecosystem of intermediaries and entrepreneurs who are developing new business models to create jobs and serve communities which generate positive social outcomes. Driving these resources into capable hands will result in building more affordable housing, reducing our carbon footprint, employing vulnerable people and creating an economy that works for everyone.
While the new federal fund structure is still yet to be worked out, it is expected that both new and existing funds will be able access this new capital. One thing is for sure: the social finance movement just reached a huge milestone. VERGE and other social finance funds across the country will be waiting for more details about the Social Finance Fund, expected in early 2019.
About VERGE Capital
VERGE Capital is a social finance program of Pillar Nonprofit Network in collaboration with Libro Credit Union, London Community Foundation, MaRS Centre for Impact Investing, Sisters of St. Joseph and the Government of Ontario. VERGE operates two social finance funds that make loans to both new and established organizations across Southwestern Ontario. Twenty investors ranging from religious congregations to foundations to individuals, have pooled their dollars to create the VERGE Breakthrough Fund Unit Trust. For more information visit www.vergecapital.ca.
Media Contacts:
Lina Bowden, VERGE Capital Co-Founder
Pillar Nonprofit Network
201 King St., London, ON, N6A 1C9
lina.bowden@vergecapital.ca
C: 519-200-9927
Vanessa Dolishny, Manager of Communications
London Community Foundation
130 King St., London ON, N6A 1C5
vanessa@lcf.on.ca
519-667-1600 ext. 107
News Topic:
Communications and Marketing
Grants and Funding
Nonprofit Sector Development
Social Enterprise
Social Finance
Social Innovation