Future transformation means systems change at root cause levels to deliver fundamentally new outcomes. In the book From What Is to What If, Rob Hopkins puts forward the idea that until we can imagine a bright future, it is tough to build one. Many 'professional Futurists' like Rob Hopkins argue that ordinary citizens ​need ​to stop waiting on think tanks and governments to lead the transition to a sustainable future. ​They argue that we ​need to open ourselves to play, the arts, and storytelling as pathways towards sustainability, equity and justice. 
Transforming the future will mean addressing systemic racism and oppression and the conscious and unconscious dimensions to existing power structures that perpetuate cycles of inequalities. Transformation will require radical ambition, intent and effort across nonprofit, social enterprise, business and governments, through values based economies and community and as neighbours and as humans. We cannot solve these entrenched issues without embracing the layers of who we are as individuals and the many roles we play in life. We must recognize we are one with nature and that our planet and people are interconnected and all that we do impacts the other. 
At our 2021 Annual Community Connector, we asked our attendees to partake in a future weaving exercise to imagine a bright future so we can build one together. The purpose of this activity is to help ground ourselves in imagining what is possible and necessary. When we change our mindsets we have a greater chance of achieving what we have set out to do! We were touched by the responses of our members, network and community and how your vision is supportive, equitable, sustainable and inclusive, and prioritizes wellbeing for all. After our breakout sessions, Monica Dikkes of Ready, Set, Draw! was able to take your responses and create this graphic recording representing our shared vision. We hope it will serve as inspiration as we all embark on our individual and organizational journeys to rebuild post COVID-19.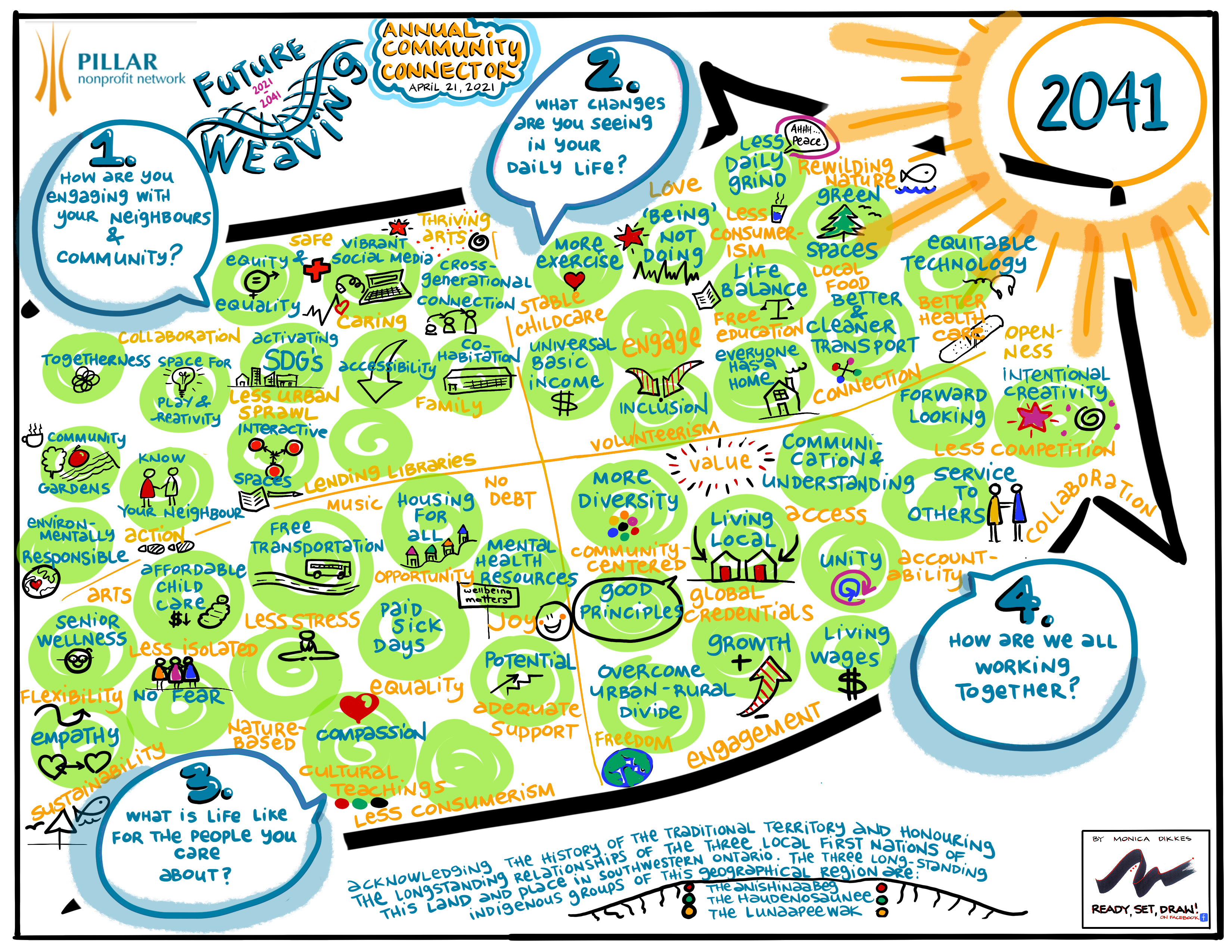 Facilitate a Future Weaving Exercise with your Organization

If you would like to try future weaving for yourself, or with your team, we are sharing some resources to help enable and inspire you to take part. Start by watching this short video from Rob Hopkins to inspire you with possibilities for your future statements. 
Future Weaving Questions

Here are a few ideas of questions to conisder when imagining the future as well as a few possible statements. If you're working on this virtually with a team, we recommend using a platform like Mural to take virtual sticky notes as you move through the activity. 
Question 1: How are you engaging with your neighbours and community?
I know my elderly neighbour's names and we take turns providing meals
Our neighbourhood association helps take care of a new family who has just moved to London
We are working together to plant a community garden
Question 2: What changes are you seeing in your daily life?
It's convenient to take the bus or ride my bike to work
As I walk to work, I pass what was once a huge supermarket franchise which is now a mix of flourishing local enterprises operated by local growers.
I notice the streets are quiet due to sparse motorized traffic and they are lined with fruit and nut trees. There are food gardens everywhere.
Question 3: What is life like for the people you care about?
My family can easily access the health care system
My uncle who has mental health issues can access a therapist as part of our health care
It is easy to navigate the healthcare system
Question 4: How are we all working together?
All three levels of government are working together to end homelessness
My work encourages all staff to volunteer on a board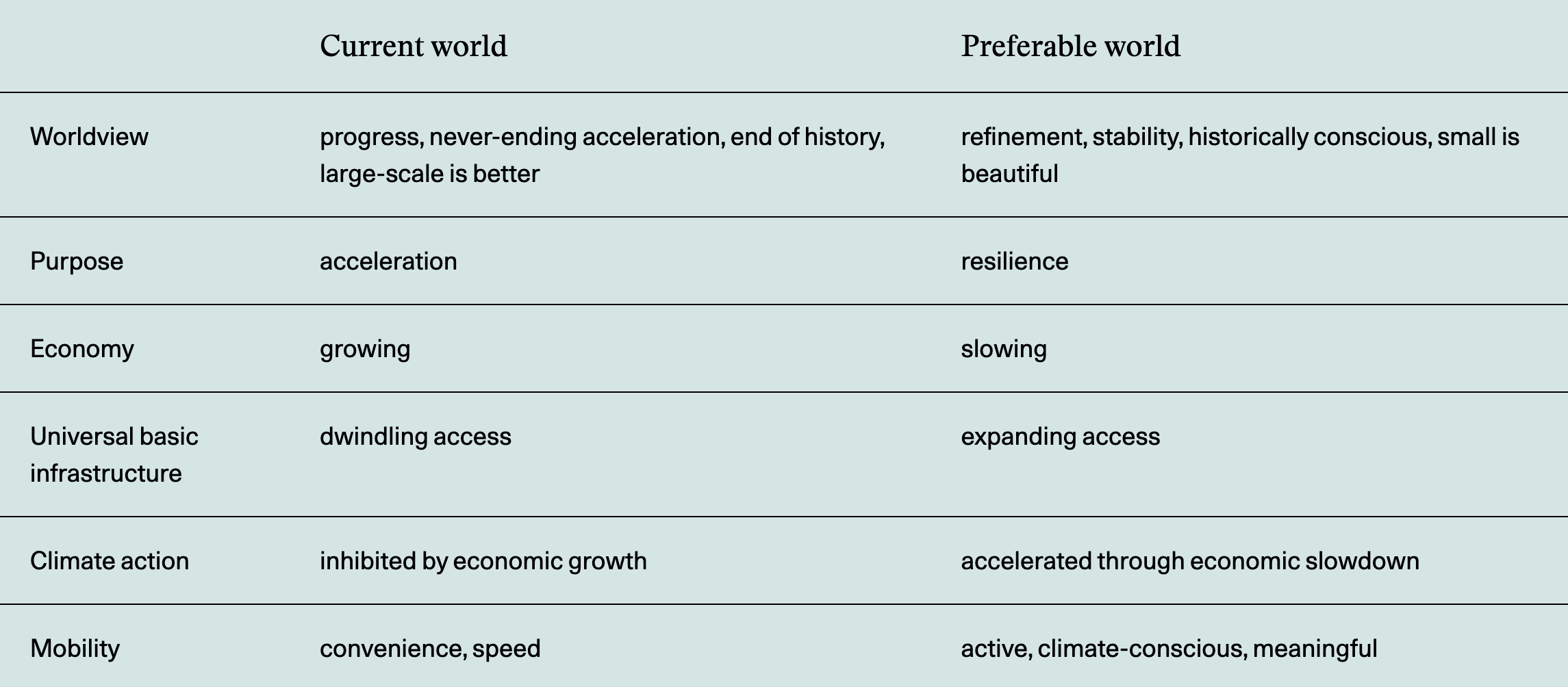 Future Weaving Facilitation Script

Imagine London; the year is 2041.
Let's look at the big picture.
What does it look like?
Twenty years from now, our city looks different.
What do you see?
You note that systems are not extractive but built on inclusive economies, revenue is ​mostly ​generated locally, services are accessed universally, neighbours​ are​ invested in each other and ​protective of the natural environment​s​ around them.
​Imagine you and your neighbours are living and thriving in this reality. What is it that you ​see? What have you collectively accomplished together?
​​What are those realities?
Now zoom into your life. ​
It is 2041; you are taking a walk through the near future…
How are you engaging with neighbours and your community?
What changes do you see in your daily life?
What is life like for the people you care about?
How are we all working together?
Just as you saw in the video, imagine and articulate...
What you are hearing?
What do you see?
What do you feel?
What are you breathing in?
Additional Reading 

Futurism
Anti-Racism, Equity & Inclusion
Philanthropy
Transition 
Social Infrastructure
Labour Market
Innovation Approaches
Inclusive Economy