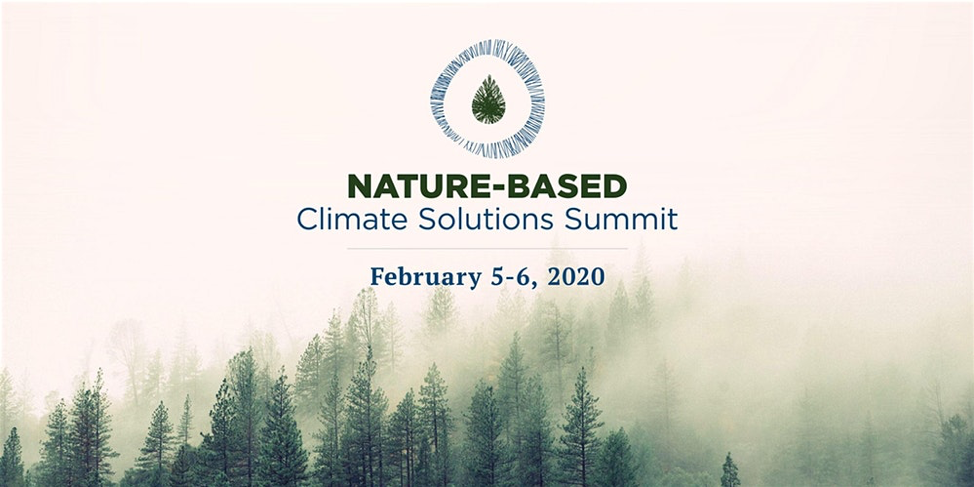 2020 is the year of nature, and to support our nation's cross-sector effort to activate major opportunities on the horizon, Birds Canada, alongside a Steering Committee of Canada's leading nature and conservation organizations, organized the Nature-Based Climate Solutions Summit. 
This decade is seeing the emergence of the UN Nature-based Solutions to Climate Coalition, the Post-2020 Convention on Biological Diversity negotiations, and the Decade of Ecosystem Restoration.  Here at home, the new federal government has made a commitment to plant billions of trees, create a natural climate solutions fund, and protect 30% of Canada's lands and oceans by 2030. 
To help seize this moment, Pillar's Director of Social Innovation,  Andre Vashist, accompanied Pillar Member: Carolinian Canada's Executive Director Michelle Kanter, to Ottawa for this two day gathering.  The summit's purpose is to increase our collective of nature-based climate solutions and help chart a path forward for a growing constituency of non-governmental organizations, institutions, businesses, Indigenous nations, municipalities, provinces and territories that support federal action and investment. 
Final Message from the conference organizers, was that this was an opportunity to connect the dots across sectors, approaches and priorities within the literal and professional landscape of nature-based solutions.  The hope was that this would develop pathways and enrich the soils of collaboration and solutions with nature, as nature.
1) Indigenous-led conservation is a key pathway to reconciliation, read more here on leadership and research. 
As settlers, we were invited to revisit our language to reflect a shift in ideology such as

"land relationship instead of land-use"

"live with nature instead of live in/on nature"

"two-eyed seeing" as an opportunity to combine science-based knowledge with traditional First Nations knowledge

"Land is not a commodity, it's a living system that deserves respect"

"Take care of land and land takes care of you"

"Give indigenous people the pen on land use plans"

Indigenous people around the world account for 5% population, stewardship of 25% of world's land mass, and caring for 80% of Earth's biodiversity.

Science projections and Indigenous prophecies are aligning

Indigenous protected and conserved areas (IPCA) is recognition of modern-day applications of traditional governance values and principles

Indigenous guardians programs (like park rangers) create employment opportunities

Avoiding climate change will not solve it, we need to change our culture through the education of children and youth
2) Enabling policy is happening in Canada, including a pan-Canadian framework to phase out fossil fuels and decarbonize, and the Government is looking for advice with planting 2 billion trees, create carbon offset credit program, and developing natural infrastructure projects. 
Here is more information on research and active funding programs:
 The Government of Canada had leads from these various files at the event and were actively soliciting feedback on design of their programs.  
3) Collaboration is key: Climate mobilization around the world, the increased amount of flooding and fires, and impact on human, animal, plant and living ecosystems requires us all to be active in this work of climate adaption, mitigation and restoration, as well as biodiversity protection, restoration and resilience. 
At the event we saw presentations from Insurance Board of Canada, Federation of Canadian Municipalities, and Municipalities Natural Assets Initiative. In each dialogue there was clear evidence that each of these stakeholders is engaging with climate through partnerships and alliances.  To do this, cross-sector communication which requires people to speak different languages and/or have interpreters in their working groups. Terms we heard includes: Green investments; Political alliances; Financial resilience; Technical expertise; Nature valuation; Research and monitoring 
We also had the opportunity to learn about specific knowledge areas: 
Carbon Offset Programs

Agriculture and Farmers

Finance
These are high level notes from our time and there is much more to unpack and share.  If you want to learn more, Carolinian Canada is hosting their annual Shifting the Paradigm Forum on March 11 to highlight emerging strategies to accelerate and scale-up action for healthy, resilient landscapes - there will be many interactive networking sessions, full details here.  We will also be presenting our Conservation Impact Bond model at Forests Ontario Annual Conference. It's great to go from national, to provincial, to local conversations, as recently we have been working on engaging with Norfolk County on phase two of the Conservation Impact Bond. When all else fails, leave it to your young people to remind us of our responsibilities:
News Topic:
Collaboration
Nonprofit Sector Development
Pillar Members
Social Finance
Social Innovation