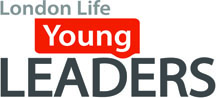 We are pleased to announce that beginning in the fall of 2017 the London Life Young Leaders program will be offered through Pillar Nonprofit Network.
For the past 12 years, this program has been offered through United Way Elgin Middlesex in partnership with London Life as a way to provide young people in our community with a unique leadership opportunity. The program matches youth aged 18-24 with a nonprofit organization, providing them the opportunity to serve as an ex-officio Board member and learn more about effective nonprofit governance. Over its history, more than 180 young Londoners have taken part in the program.
With continued sponsorship by London Life and at the invitation of the United Way, Pillar is delighted to add the London Life Young Leaders program to our menu of programs and services. Pillar has a strong commitment to diversity in leadership, youth volunteerism and board governance education, making this program a natural fit with our other diversity and governance initiatives. 
Pillar will partner with the London Youth Advisory Council (LYAC) in the implementation of this program. The LYAC is committed to promoting equity in community spaces by facilitating opportunities for youth to co-create solutions to challenges they are facing, which makes this program a strong match for our existing council program and youth engagement work.
We are grateful to the United Way for working with us to facilitate the program's smooth transition and to ensure that the same high quality experience continues to be delivered to young people in our community.  

---
If you are between the ages of 18-24 and would like to participate in the program, download the application form here and apply by September 8, 2017.
For more information or any questions about the London Life Young Leaders program, please contact Dharshi Lacey at diversity@pillarnonprofit.ca or 519-433-7876 x 216.
News Topic:
Board Governance
Volunteerism