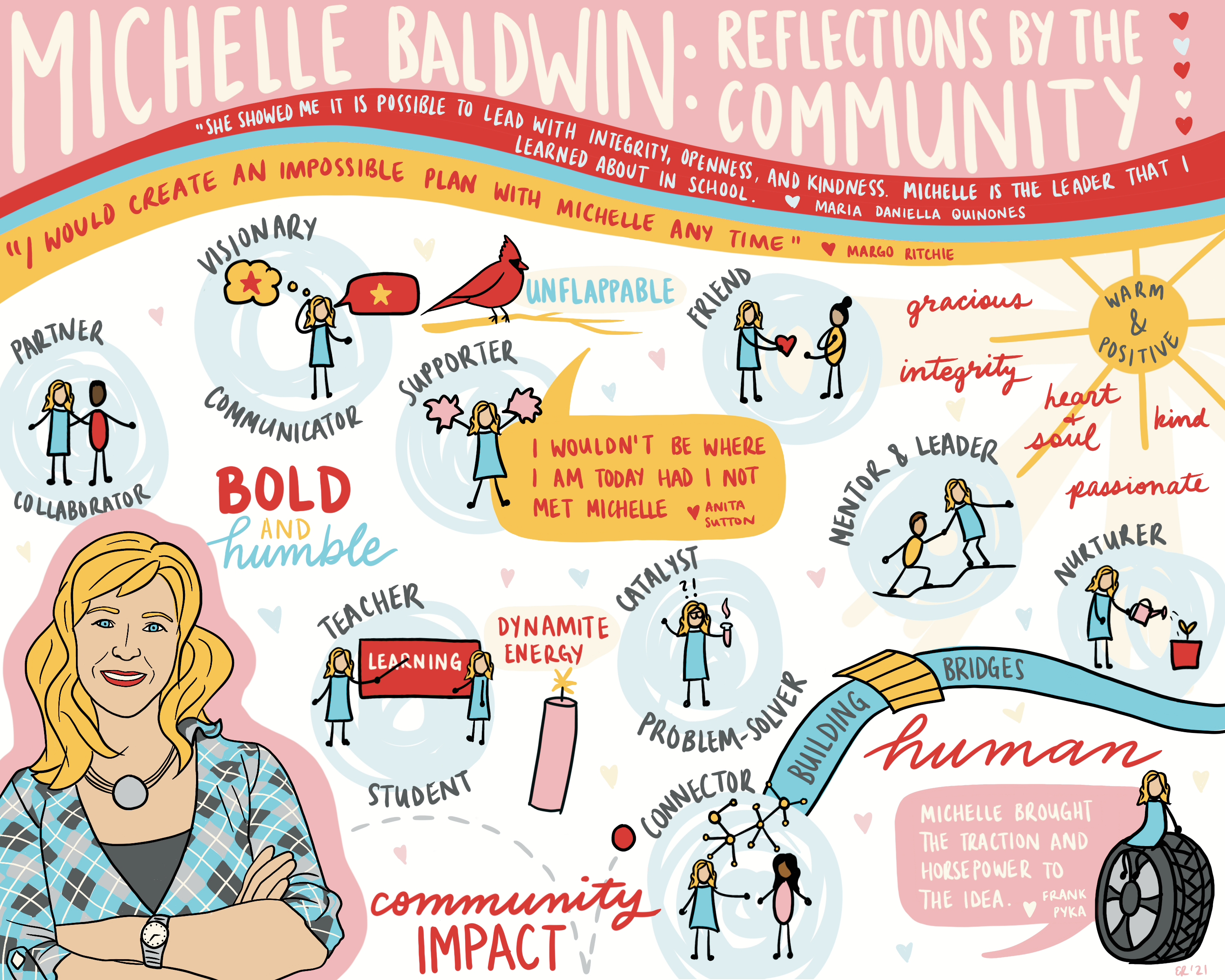 To celebrate the incredible impact that our outgoing Executive Director Michelle Baldwin has had on our organization and on all of the people she has touched, we asked you to share the important lessons you've learned from working with Michelle over the past 14 years. Thank you all for sharing your pages of memories; they have all been shared with Michelle. To capture all of your wonderful sentiments we reached out to visual artist Emma Richard to create a piece of art for Michelle to thank her for everything she has done for Pillar and for us all. 

Artist Statement
Marking moments of change and transition is no easy feat. How does one distill over fourteen years of leadership into something that can be looked at, digested, celebrated, and felt? In this case, by reaching out to the community.

After Pillar asked members of the community to provide reflections about what they had learned from working with Michelle Baldwin over the years, I had the honour of sifting through twelve pages of written content. Looking for themes and threads that wove through the responses, there seemed to be two main modes of reflecting. People shared how Michelle was as a leader, as well as who Michelle was as a leader.

In the graphic, you will see words and images that people used to describe Michelle, such as warm, passionate, energetic, human. Additionally, depicted are many of the roles that people shared they witnessed Michelle embody as a leader. Roles like nurturer, catalyst, connector, friend. The goal was to capture some of the tremendous impact Michelle has had on the community throughout her time at Pillar Nonprofit Network, and to reflect back some of the many ways that her community sees her as she moves forward.

For me, what really came through when reading all the reflections was a deep and heart-felt sense of respect, admiration, and gratitude for Michelle, as both a leader and a person. While one 8x10 image could never capture all the stories, depth, and aliveness from her years with Pillar, or even from those twelve pages offered by the community, my hope is that this serves to provide a glimpse of what people have already begun to describe as a really beautiful legacy.

With heart,
Emma Richard

Memories from our Network
Michelle is the leader that I learned about in school. Someone who led holistically and leaned on their team for support and ideas. I always wished to see live action a leader that could be that sweet spot of leadership theory that almost seems impossible, where the leader is strong and assertive but also gentle and kind. Leadership theory traditionally says you are either or, but to be both is what she has done. She showed me that it is possible to lead with integrity, openness and kindness. The thing I remember the most about Michelle during my time working with a the Pillar team, was how she made time to get to know me, and how she made time to let me get to know her. It was never one sided. Often leaders feel at a distant and elusive almost mysterious. But Michelle was so open, after any conversation with her she would always let you know what she was up to next: where she would be and what she was up to. That transparency was so new, for a leader to willingly give that information, important to you or not, it made you feel like she valued you very highly. It stood out to me a lot and I believe that makes her an exceptional leader; making the people she is around feel important and leading with integrity. 
Michelle is an exceptional person and I am happy I got to see how she leads as it inspired me and gave me a new perspective about what leadership can be.

Maria Daniella Quinones

Michelle has been a role model and mentor to me during my career. My favourite memory of Michelle was collaborating with her and Frank Pyka (Foundation Western) to bring investment knowledge and Board Governance training to community leaders at a Foundation Investment Forum. The Forum became an annual event for 6 years! Michelle sets the example for other leaders, on what true collaboration, innovation, and partnership looks like. Our community is better off because of her impact.
Amy Gibbons
Michelle embodies community leadership. After first meeting in 2019, it was clear that Michelle leads with kindness, passion, and expertise. As a young woman looking to grow within the social impact community, I am extremely grateful for Michelle as she has answered my every email and acted as an amazing mentor.
Maya Gandhi
Over the years Michelle and I have served on many community tables. In her role, she often was invited for the Not For Profit voice, however when she contributed she did so from a lens that recognized Not For Profit, Business, and Government, and always focused on making our communities better off.  It is in these settings that I have my fondest memories of Michelle. A proactive, action-oriented leader who served a greater good. Michelle has made a positive difference for the broader London community. 
Stephen Bolton
I vividly recall Pillar being a great idea struggling to find traction in its early years. Michelle Baldwin was Bridgestone Blizzak tires on a Mustang Mach 1 that brought the traction and horsepower to the idea. She transformed Pillar to the credible and respected sector voice that it is today. Checkered flag! 
Frank Pyka
Wishing you all the best in your new roles. Thank you for your work with Pillar Nonprofit Network and for your many contributions to our community. You have provided leadership and support to the non-profit sector and been a voice and champion for volunteers and organizations. You are a trusted colleague and I have learned so much from working with you including the value of being both a teacher and a student, how to bring curiosity and energy to collaborations and that there is always time for a quick connection and a kind word.
Sara Middleton
Michelle has been an amazing friend and supporter over the years. Her support on community and business projects has been much appreciated. I know that if I need assistance, a connection, guidance, Michelle will come through for me.
My most treasured memories are from the time period right after we lost our son, Nathan Deslippe. In addition to supporting us through the initial shock and the trial, Michelle (and Lynn Davis) enabled us to have Nathan's name included in the IN Crowd virtual wall and bag. There was also an incident later when one of Nathan's journals was found at Innovation Works. The community made sure that the book was given to Michelle who then connected with me to have coffee and return the book.
This goes to show how Michelle has fostered a community of caring individuals.
Mona Lam-Deslippe
Michelle graciously gave of her time to offer guidance and advice over a coffee, as our organization looked to transform from a community group into an NFP. Her advice and examples of bylaws were invaluable. We appreciate her help!
Vince Londini
Honestly, I can't say enough positive things about Michelle and the impact she has had on the community. I always tell her that she should run for mayor! Michelle and I have known each other for about 18 years when I first reached out to her to talk on behalf of London's charitable sector in a class I was teaching. She said yes right away and valued the opportunity to talk to university students about the vibrant city of London and opportunities in the charitable sector. Needless to say, many of those students have gone on to work in not-for-profits and charities! Even as her caseload became heavy, she always gave her time graciously. When Michelle spoke to many of us about the concept of Innovation Works in London, it was an easy decision to come on board as I had total faith in Michelle and her dream. Her dream became a reality of course (not surprised!). Michelle, I wish you much success in your next great adventure! And, yes, I will still ask you to run for Mayor, or better yet, Prime Minister? 
Tracey Church
It's a bit hard to encapsulate what I learned from Michelle in one email. Over 10 years of working together there was so much good stuff. I think the most significant of those things is her ability to collaborate and bring partners to the table to problem solve.
I saw Michelle navigate so many difficult and challenging situations both internally and externally by finding a way to bring folks together in discussion and to work together on a solution. 
Her natural charisma mixed with her passion for making the community a better place were infectious and I think a large part of what brought folks to the table. Over time, her reputation as a great partner and communicator led her to be able to take on larger and larger collaboration projects.
David Billson
Michelle is a breakfast partner, a co-conspirator, an inspirational leader and facilitator of projects that bring together a gazillion people. I personally have appreciated Michelle's innovative spirit and her simple warm humanness. I would create an impossible plan with her anytime. I have learned that respect for others with diverse experience is worth its weight in gold.
Margo Ritchie
Michelle has the capacity to be both bold and humble, a rare and powerful combination for a leader in innovative spaces. Her ability to see the bright spots and find ways to amplify them is something I truly admire. I deeply appreciate how Michelle finds ways to show up for people when they need it, and how she can see the right connections to make between people and ideas to allow for real magic to happen. I am so grateful to know Michelle and to have had the opportunity to work with her. 
Rachel Berdan
I wouldn't be where I am today if I had not met Michelle Baldwin eight years ago. She is the reason I ultimately made the leap into entrepreneurship and has continued to champion me when I didn't know it. I learned a lot about the type of leader I wanted to be while working alongside her on committees and watching her lead the Pillar team through many seasons of change to being a national leader in social innovation. She is one of the busiest people I know and yet, always makes the time for people who need it. I continue to be grateful to call her a friend.
Anita Sutton
I met you when we both became founding members of Pillar. You were dynamite from the very beginning and it wasn't long before I would be calling you one of my dearest friends. You've been in my court throughout my entire career with your genuine encouragement and sheer positivity. (And I know there are countless others who would say the same thing.)
You're moving on – the time has come – and I'm excited to see what great things will come next for you. My only hope is that our "walks and talks" together will never end.  
Janet Tufts
As a community partner, I learned that it is ok to start without having all the answers. It is more important to keep asking good questions and be ready to listen.
Luis Patricio
When I think about Michelle Baldwin, I think of a role model. Michelle is the kind of leader that I strive to be; purpose-driven, passionate, intelligent, kind and approachable. She is a catalyst for change, a community connector, and an authentic leader. I have been lucky to be connected to Michelle through my role at Libro, she is a force to be reckoned with and I know she will inspire positive impact anywhere she goes.
Emily Strybosch
Working as an intern within the Pillar/Innovation Works family that Michelle helped create changed the trajectory of my career in reaffirming that I could live my personal values through and at work. Along with other leaders in her community, she was one of my earliest professional models for what a true leader looks like -- someone who nurtures those around her by creating and sharing opportunities, championing collaboration, and empowering everyone around her to bring their humanity to "work" by doing so herself. Michelle is always warm and generous with her time and her help. After experiencing the community she helped create at Pillar, I am convinced of the power of ecosystems and values-aligned innovation hubs. Cheers to Michelle and all the lives she has touched.
Nikki Kwan
Len and I, Thrive Business Consulting, are co-founding tenants of Innovation Works.  We met Michelle for the first time when we went for a tour of the Goodlife building before the renovations had started.  Michelle has always been so supportive of us and whenever we were in Innovation Works she'd make a point to drop in, introduce herself and make our Clients feel right at home.  Michelle has such great energy, she worked tirelessly to promote Pillar Non-Profit and Innovation Works.  We will miss her smiling face at Innovation Works and wish her all the best on her new journey.
Louise Motuzas
From the time she casually asked for me to co-chair the awards (about one third the size then) to the last four years as a board member of Pilar, my admiration for Michelle has continued to grow.Her enthusiasm for Pillar's goals, her dogged termination to achieve her goals ( could anyone else possibly have created the downtown space?), the respect of the staff and community ( where she goes, she truly doesn't need an introduction) are all parts of Michelle that have contributed to the  respect she enjoys  from so many diverse parts of our community.
She will make a great contribution to the Federal involvement in the philanthropic world.... and we will miss her.
Bob Siskind
In 2006 I was working with the Strathroy Chamber of Commerce and had the opportunity to attend a Not for Profit management course at Western Continuing Studies. There were 9 components to this course spread out over many months. I enjoyed the learning and it was extremely interesting, but it was by the book and practical material. But when Michelle came to speak to the class the very last day of the course, something happened. I had never heard anyone speak with so much heart and soul about the Not for Profit sector. To me it was a call, definitely an ah hah moment. I discovered that I needed, absolutely needed, to follow that call. Soon after I was blessed to work at Pillar for 6 months as Education Coordinator, and I continued to work in the sector with The Salvation Army as a Volunteer and Special Events Coordinator until retiring in 2019.
Even after retirement, it is Michelle's passion for community that continues to inspire me to serve where I can in my church, in my condo unit, and with the London Air Show.
Mike Couture
Michelle taught me how powerful it can be to believe in something with your whole heart - unapologetically, unwaveringly - and what it feels like to have someone like her, who knows how to believe, believe in me.
Carolyn Holdsworth
I worked with Michelle on the Pillar Board during and throughout the development of Innovation Works as the Treasurer. There were certainly some bumps along the way and what I will remember most is the perseverance Michelle showed during the failed attempts to acquire other sites in downtown London. I remember the disappointment that was felt by everyone involved when certain sites fell through, but admired Michelle's ability to see those disappointments as stepping stones towards the eventual acquisition of the current home of Innovation Works. Through it all, she remained positive and optimistic and I enjoyed supporting her on the financial and budgeting aspect of working through how Innovation Works was going to come to life. She is an incredible leader and represents everything amazing about the people of London and I look forward to seeing the great impact she will make on communities across the country!
Dipesh Parmar
Michelle is a genuinely remarkable leader, person and friend. She makes time for everyone, whether in the middle of a busy day or in between back to back meetings. Her humility, compassion and ability to connect people, ideas and opportunities is something I will always admire. I consider myself fortunate to have learned from her and deeply value her leadership, knowing her approach is something I will work towards and seek out for the duration of my career.
Lindsay McDermott
Michelle Baldwin takes connectivity and generosity of spirit to new levels. Thankful for the opportunities to learn from you and wishing you all the very best in your new role!
Karen Pischedda
Michelle showed me the power of dreaming and being ambitious, not for oneself but for one's community, and how to do that with a very positive and inclusive approach.
I was fortunate to be on the search committee that hired Michelle, and on the board for more than half her time as Executive Director, and I never ceased being amazed by the many different ways she grew the organization over the years. She modelled Pillar as a "best practices" non-profit that truly was, and continues to be a model for the community. 
London has benefited greatly from Michelle's energetic and imaginative leadership, both at Pillar and also in the broader community.
Brian Meehan
Thank you for being such a wonderful leader for Pillar and our community. Your enthusiasm for our work and nonprofits has attracted countless people to the sector. Your openness for change and opportunity has sparked incredible innovation in our region. Your eye for connection has enabled remarkable collaboration. You inspire everyone around you, and we all hope that we have some of your magic within us.
Best of luck on this new adventure, I know you will continue to shine. I look forward to continuing to work with you in new ways!
Sarah Beyea
Michelle is a unique leader and a wonderful colleague and friend.  She is unflappable - no challenge is too daunting for her to take on and learn from.  She inspires me with her energy, curiosity, warmth, and calmness - and her ability to bring people together to work for good in the community. 
Mindy Gordon
Michelle is an amazing and wonderful person who cares about people and the world around her. She is an outstanding leader and she will absolutely thrive in her new role. 
Michelle, I will miss you dearly at Pillar/Innovation Works, and wish you all the best! Thank you for your guidance, leadership, compassion, kindness and friendship!
Cecile Klerks
When you agree to become a volunteer for an organization, you expect that you will learn, help and leave some sort of mark.
What you may expect is watching an organization mature and grow, but you also are present to some happy developments. In working with Michelle for so long, it was being witness to the blossoming of a strategic community leader.  While Michelle has long had many strengths, over the years, I've been able to witness her focused work on these leadership skills, to shepherd and challenge an organization, board and community and to evolve as an individual.
Michelle has helped me be more passionate about my community, switch my lenses, challenge my thinking, her wonderful skill of "reframing" and how to actively build relationships. Relationships between ED and Board Member, but as importantly, relationships with those that don't always see your mission/vision, that sometimes question your work, or simply do not understand your goals.
I always thought you are supposed to give more as a volunteer than take, but this has been near impossible with my experience and work with Michelle. I thank you.
I thank you for your endless work and anchoring of Pillar NonProfit, to help make it such a stable organization with incredible achievements and to be able to walk along with you for part of that journey. 
All the best in your next adventure.
Jason Kerr
Michelle has taught me what it means to be a heartful leader. She has many natural talents to be sure, and she has also done a lot of work to grow and stretch herself.
As a heartful leader, Michelle always makes me feel like I matter; like my voice and contributions are important.
Michelle has an innate ability to make all folks feel like they matter. If she knows you, she cares about you. It's remarkable, really. She is a weaver of genuine goodness. 
What 5 words would I use to describe her character as a human:
Kind/caring, passionate, empathetic, playful, lifelong learner
5 words to describe her character as a leader:
Integrity, Collaboration, humanity, humility, courage
Wishes for her moving forward:
I hope she gets some space to take it all in - all her time, effort, experience, all that she has given over the past 15 years - to marvel and appreciate her impact; to see herself the way the community sees her. I hope that her next journey of work is even more rewarding and joyful and that she continues to grow and learn. I also hope she gets lots of space and time to be with her family and love her people. 
Cheers to you, Michelle! For all the laughter, the playfulness, the tears, the depth, the growth, the heart. You are the truest embodiment of what it means to be a leader and I will always be inspired by the way you show up in the world. 
Thank you for everything <3 
With a heartfelt hug,
Caitlin Villeneuve
I served on the Pillar Board from 2007-2010 and it was in that capacity that I got to know Michelle. Even then - and she has grown into deeper and deeper expressions of that now- she was inclusive, present, thoughtful and always had a quality of seeing into a future that I am not sure she could totally wrap her arms around. 
Conscientious, warm and intelligent as a human and a leader, she worked with the people who showed up and made Pillar better and then better still.  An exceptional human: I am proud to know her and to have learned from her. 
Wendy Arnott 
Michelle Baldwin's brilliant mind is only matched by her gentle humour - sometimes quirky - to sparkle panic into action along the way.  Not only does Michelle bring tenacity and possibility to every conversation, Michelle inspires all of us to think beyond our own ego.  "Collaboration is hard," she said. "You need to imagine in your wildest dreams," she coaches. "I like where you're going with this," she invigorates into the conversation. There are moments I have to do a double take and moments in which I watch in awe. I love that she's OK with holding her feet to the fire and to show us that in some cases, when two opposing views are present - both can be right. How blessed to meet you so many moons ago in the Fitness Room at Berkshire!
No room to miss you Michelle - you will always be a part of Pillar and our community. Of this I'm certain.  
Loredana Wainwright
I have long admired Michelle Baldwin's commitment to social purpose and have more recently had the opportunity to work under her leadership at Pillar Nonprofit Network. I have learned much but, if I had to share just one reflection, I've never known anyone to show such care for the people around her while showing equal care for the community and our social fabric. Total balance. No division of attention. Genuine and inspiring.
Paul Seale
I was fresh out of University when I met Michelle Baldwin. She offered me a short-term job at Pillar Nonprofit Network back when the organization was still in a relatively young stage. I thoroughly enjoyed my few months sharing an office with Michelle - but also learning from her by observing her in action.
From Michelle, I learned collaborative leadership that is supportive and empowering - that validates other perspectives and builds trust.
I marvelled at her ability to build bridges with people of varied backgrounds in order to reach goal alignment and collective impact, as well as her ability to maintain grace under pressure.
Fast forward a few years (or more than a decade but who's counting?), to a time where I have both the honour and responsibility to lead a team. Michelle has encouraged me at different points in my journey - sometimes without knowing it. I still find times when I think about Michelle's example or wise words when faced with certain challenges. 
Once I heard it said, that strong leaders beget leaders; I certainly believe those words apply to Michelle. This is part of her vast legacy at Pillar.
All the best, Michelle!
Ericka Ayala Ronson
Michelle's passion shines through everything she does. Her leadership in our community has been inspirational and we are so proud to work alongside her as collaborators and partners. What stands out the most about Michelle is her approachability and genuine kindness. Michelle's ability to make everyone feel welcome and build relationships built on trust, care and integrity is her strength – characteristics that are so crucial to a network leader. It is evident that her role at Pillar was much more than a job – it was her passion and everything she does is for our community's benefit. We sincerely appreciate Michelle and all she has done for our community over the years. We will miss her at Pillar but are excited to continue to work with her in the community foundation movement!  
Vanessa Dolishny & the London Community Foundation team 
Without a doubt, Michelle is one of the most inspiring leaders I have had the privilege of working with over my tenure in the nonprofit sector. Her passion, commitment and courageous willingness to take on bold and audacious challenges made for an incredibly purposeful and rewarding return on the time invested at Pillar.
Albert Brulé  
Michelle's reputation precedes her as a heart-centered leader and passionate advocate for our community; anyone who knows her would say she lives up to that description. It has been a privilege to learn from and collaborate with Michelle, and there is no way to capture all the lessons she has shared and modeled, but I will highlight a few. 
First, and most importantly, she has modeled what genuine, authentic and open-hearted leadership looks like. She cares about connecting with her employees on a personal level and taking an interest in their lives and development. No matter what is on her plate, she is open to connecting for an encouraging word or discussion to work through challenges. Secondly, she demonstrates what it means to dwell in possibility. No challenge seems to be too great for Michelle to tackle who always meets problems with creativity, enthusiasm and no shortage of good ideas. Lastly, she models a commitment to lifelong learning and a willingness to roll up her sleeves and work alongside her employees. She is a rare combination of a visionary who can actually get down to the work, showing what it means to remove hierarchy in an organization to pursue common goals. 
I am extremely grateful for my time working with Michelle, and for the impact she has had on both Pillar and London. I look forward to following along with her journey and seeing how she will help to shape the future of our sector on a national scale.
Kaleigh Rodgers
I have had the pleasure of working with Michelle for the last 12 years and started working when we were just a small but mighty team of 4. Over the years Michelle has taught me so much about the social impact world of nonprofits, social enterprises and people who want to do good. And more importantly she has taught me so much about leadership, compassion and working from a place of no ego. She has shown me time and time again how the power of people, working together and caring about each other can create small ripples of change and move mountains. We have all been so very lucky to learn from you and alongside you.  And now we need to share you with the rest of the world! Michelle, thank you for sharing your generous and authentic self with me. Will miss you so very much and excited to see what you will dream up next. 
Susannah Gergich
"From her early launch to her grand finale, Michelle shone as Pillar's heart and soul. What a joy it was to travel an extraordinary social innovation journey with Michelle, enroute to the creation of Pillar's remarkable Innovation Works! I am ever grateful for the amazing experience working alongside such a collaborative leader. Michelle is indeed a beacon of hope for our community, and beyond."
Maureen Spencer Golovchenko
To say she is an extrovert through and through would be entirely true (I've taken up many phone calls questioning how she is able to continuously show up) and yet, complimenting her for her enigmatic energy doesn't quite capture the quiet fortitude, discerning grace and deep humility with which she leads and lifts others up.  
She works tirelessly with an enduring enthusiasm and without any notion of hyper-productivity or "grind" culture mentality, enabling those who work with her and learn from her to name their needs and feel comfortable taking rest. Her community's health, resilience and growth are forever her priority. 
She is the kind of executive director who calls you up to say "what is your life's purpose and how do we help you make it  happen?" And she means it…even if pursuing your goals might mean leaving your contract with her organization early to chase after your bigger dreams. She'll sit with you on the phone brainstorming an exit strategy. She'll make you understand your competence, feel like your dreams are possible and remind you to have a lot of fun while doing it. And once she supports you on your way, you never really leave. She'll make plans for coffee with you to chat about the journey, send you a card, or phone you up again to ask about the next biggest dream.
Nicole Manfredi 
Michelle has been an inspiration to our community! She has with grace and determination moved/removed barriers for folks to participate in the conversations of community development, inclusivity, community investment, leadership and so much more. Michelle somehow manages to be at the forefront of up-and-coming trends and has not only positioned Pillar to be one of the leaders but has invited all those interested to join in on the fun. She notices gaps and she notices where as a community we are falling short. She leads by example which may sound so simple, but it does require courage, time, purposefulness, and tenacity to work through resistance and hesitancy. Michelle has contributed much to moving and growing Pillar and at the same time she has been a leader in moving and growing our community. Relationships, Commitment, Community with a bit of pluck is how I think of Michelle and all she has contributed to London. I wish you all the best Michelle as you move along to new endeavours. Thanks for all you have shared along the way.
Shelley Yeo
Michelle is a superstar - and anyone who knows her in any capacity, can certainly attest to this. I reckon she has had a lot on her plate day to day, yet she's generous with her time, and presence in meaningful ways (while being hip and fun energy?!) Ever ready to show up for community, and from personal experience, it's been a pleasure witnessing how engaged, knowledgeable, and supportive she is (both on and offline!) Looking forward to continuing to learn alongside, and by her example - rooting for her ongoing successes, just as she does, ours. :)
Fatimah Abbass