2018 was a big year for Social Enterprise in Southwestern Ontario.  Together with our regional partners, Pillar launched Social Enterprise Southwest, a collaborative effort to raise the level of social enterprise support and inject our region with the knowledge and tools we need to excel in social entrepreneurship. We're helping those with big ideas have big impact!
Through this work, Southwestern Ontario's social economy will thrive, becoming a hub for social innovation in the province. This program is funded by the Government of Ontario's ONE Social Enterprise Partnership.
Social Enterprise Southwest is supported by four Social Enterprise Coaches, local experts who provide one-to-one support for Southwestern Ontario's growing number of social innovators.  Coaches can be found at four social enterprise hubs: Pillar Nonprofit Network, EPICentre at University of Windsor, Huron Small Business Centre and Innovate Niagara.
Social Enterprise Southwest is about so much more than our four organizations. Social entrepreneurship is a movement towards innovative, sustainable solutions to community problems. We have the opportunity to be at the forefront of this movement. Our goal is to advocate for, support and grow the social enterprise movement!
Check out the highlights from our first year of collaboration!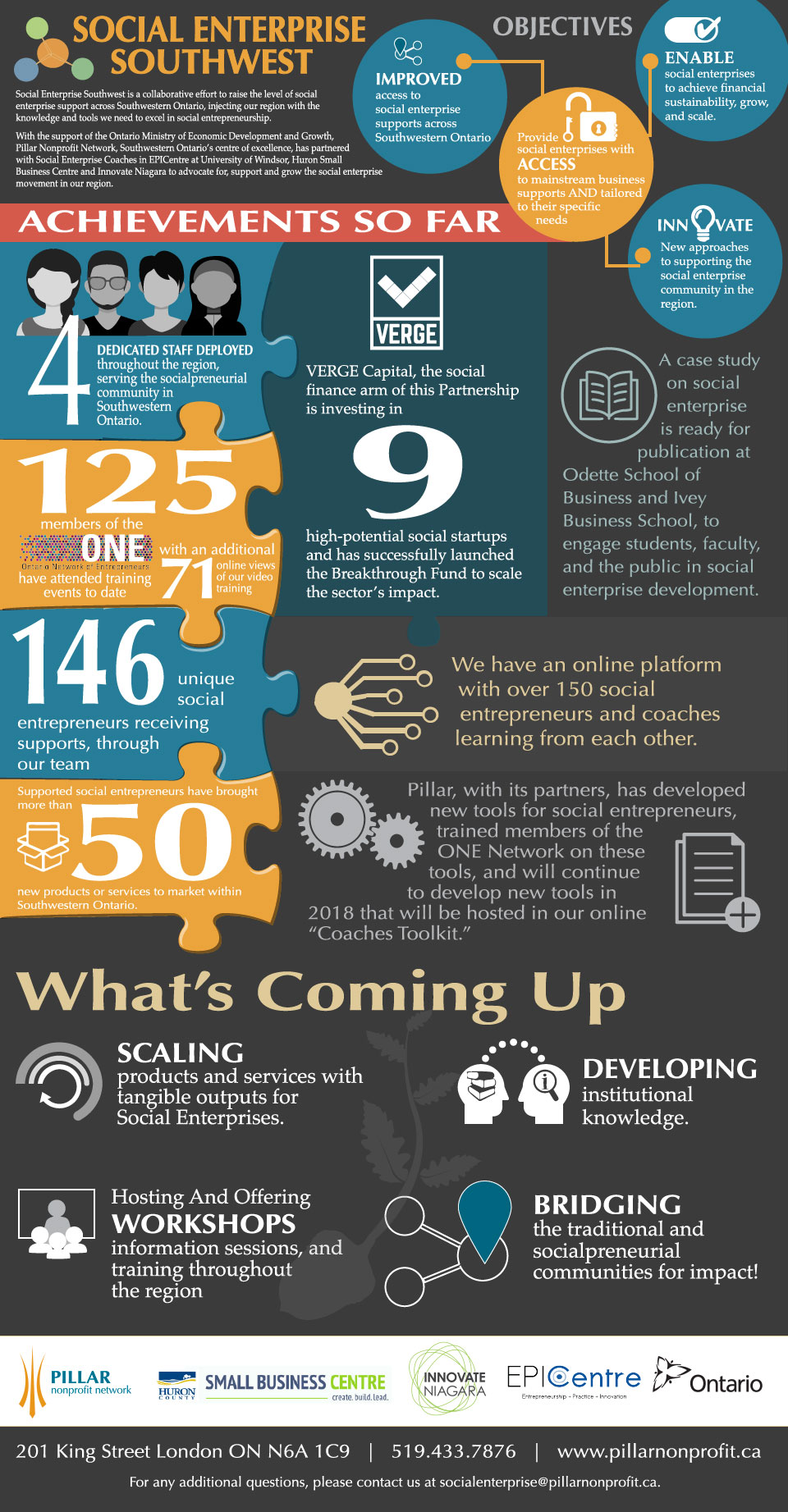 Want to know more? Check out these video stories from across the region!

VERGE Capital, a social finance program of Pillar, now supports 9 startup social enterprises

Not Naughty Biscotti introduces new product line supported by Huron County's new social enterprise coach
Jenna Marino speaks on how Innovate Niagara has integrated social enterprise into their coaching

EPICentre at Windsor University hosts first Fueling Social Enterprise conference

Pillar's VERGE Capital expands across the region, meet our first regional investment Homegrown Land Bank

News Topic:
Collaboration
Leadership
Social Enterprise
Social Finance