After a thorough process that incorporated deep research, reflection and consultation, Pillar Nonprofit Network is pleased to share the release of our 2021 – 2023 Strategic Plan.

This plan charts a bold path for our organization and network. The challenges of helping to support a sustainable and equitable recovery, creating transformational change, and shifting systems of oppression, are complex, and we cannot realize our ambitions on our own. Making progress toward these objectives will require new approaches and a collaborative effort. We will continue to provide our core programming and services at Pillar while their content and delivery will be adapted to meet this direction. At a local and provincial level, our advocacy efforts will follow suit.

The themes and objectives of our plan are as follows, with the full plan, including strategic priorities, shown in the figure below.

Equity in Action - To acknowledge our shared complicity in anti-Black and anti-Indigenous racism and all intersecting oppressions, and drive ourselves and our network to action.

Change in Action - To work together across sectors and shift inequitable structures and systems to create transformational change.

Recovery in Action - To promote an equitable and sustainable recovery that addresses the inequities exacerbated by the COVID-19 pandemic.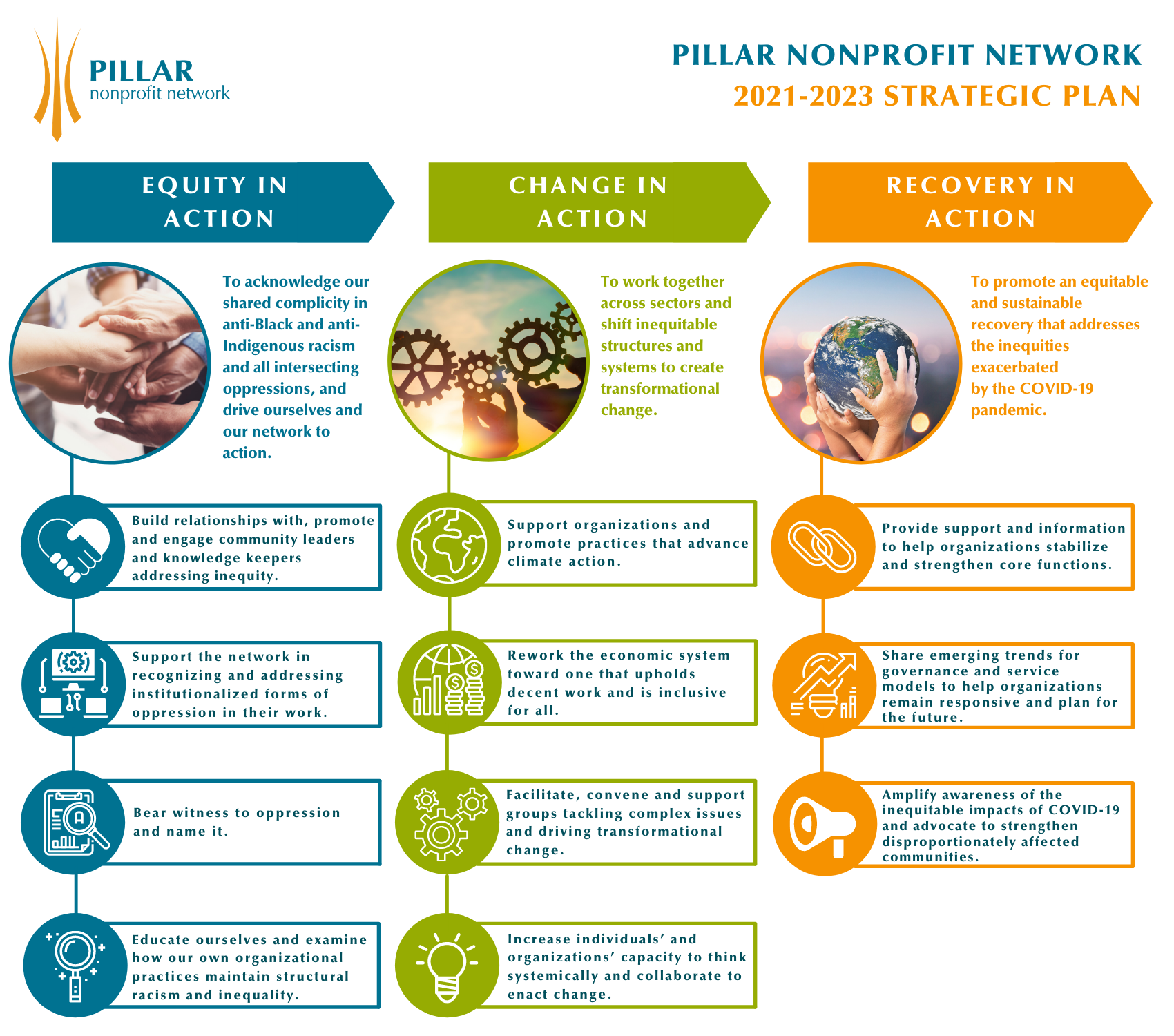 As a network organization, Pillar must continually pivot and adapt to the needs of our members and our community while responding to the social, economic, environmental and political climate. This plan was developed with direct input from our community, network members, co-tenant members, board and staff over the course of 2020.

Our members and Innovation Works' co-tenant members weighed in via surveys, expressing the needs and concerns of their organizations and their expectations of us. Our board and staff reflected on Pillar's history, present and future, sharing their hopes and aspirations for how we can continue to serve our network and help our members maintain organizational stability through this challenging time in our history.

Throughout the process, we also captured learnings and insights from local and provincial policy developments, sector and social trends, and looked to frameworks such as inclusive economies and the sustainable development goals to help us set our objectives.

As we step into a new chapter, our primary commitments to the network remain unchanged. In all that we do, we aim to strengthen individuals, organizations and enterprises that are invested in positive community impact. In this moment, in order to move forward as an organization and as a sector, we know we must do all we can to shift the systems that have maintained inequities, many of which have been amplified during the COVID-19 pandemic. At a societal level we are all being called upon to confront problems of pandemic proportions, including colonization and anti-Indigenous racism, anti-Black racism, gender inequities, oppression and a climate emergency.

We made a decision to shift our language, in this document, from a focus on inclusion, to identifying the enduring forms of oppression that are fundamental to the struggle against racism and colonialism in North America. Using these as an entry point when confronting systemic discrimination will produce the greatest impact and improve outcomes for all equity-seeking groups.

We recognize that the violence and exploitation of colonization, slavery, and racial segregation have shaped Canadian society in ways that continue to harm Black and Indigenous people today. By explicitly naming anti-Black and anti-Indigenous racism when we engage in equity work, we aim to address issues from an intersectional perspective that considers those facing additional barriers and focus our collective efforts to right past and ongoing wrongs.

While the present and future we collectively face will not be without challenges, we have seen the power of a network unified towards the greater good time and again. We are confident that this plan will enable us to lead, walk alongside and follow each of our network members as we work together in our continued journey towards a more engaged, inclusive and vibrant community.