FOR IMMEDIATE RELEASE                              
Twenty-Seven Area Eateries Get $1,000 Each in First Round of Grants from New London-Middlesex Restaurant Support Fund
Businesses and nonprofits team up and serve up relief to area restaurateurs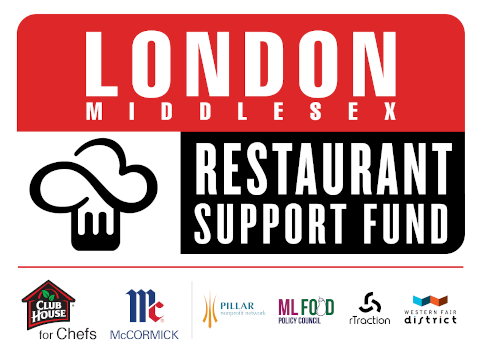 LONDON, ON. Aug. 24, 2020 – The new London-Middlesex Restaurant Support Fund has announced that 27 area eateries – 21 in London and 6 in surrounding Middlesex County – have each been awarded $1,000 grants to help with the costs of opening or staying open amidst the pandemic with more grants to come this week. 
The fund offers $1,000 grants to qualifying London-Middlesex-based, independent operators of restaurants and bars in need of financial assistance as they adapt their businesses in order to reopen safely. Restaurateurs can check for eligibility and apply for the grants at lmrsf.ca.
A collaborative of local businesses and nonprofits, the fund was seeded by London enterprise Club House for Chefs and McCormick Canada with a $30,000 contribution and is operated by project partners Middlesex London Food Policy Council, Pillar Nonprofit Network, rTraction, and Western Fair District. 
With promotional support coming from Visit Middlesex, and all other costs covered by the project partners, 100% of any contributions received go directly to operators in need. After learning early about the initiative, Libro Credit Union was the first company to jump aboard, pledging $2,000 even before the portal opened. Companies and individuals who wish to contribute can visit www.lmrsf.ca for more information and show their support using #LMXRestoSupport. 
Applications opened on August 13th, and there were 27 applicants in the first three days. The applications are adjudicated by a committee of the Middlesex London Food Policy Council and there will be a second round of grants announced after the committee meets again this week. Grant applications are time-stamped and will be fulfilled on a rolling basis until the funds are exhausted. The Council is also launching a blog series this week with stories about the project partners and grant recipients, the first post spotlighting project catalyst McCormick Canada.
"We're proud to have been a part of this community for more than 137 years and we know restaurants are an integral part of the fabric of our community," said Anna Stolee, Senior Director of Sales and Marketing at McCormick Canada. "Amidst the pandemic, restaurateurs are struggling, and we want to help them get back on their feet. Even as restaurants are reopening, it's not a return to normal business as operators face increased costs to maintain safe operations on already slim margins. We know there's a long road ahead, but we hope this fund can help alleviate some of that burden."
Paul Seale, Membership Engagement Manager at Pillar Nonprofit Network is a former restaurateur himself and notes that, "Cash flow is a constant challenge in restaurants at the best of times, so there's no restaurateur who couldn't use $1,000 toward the extra costs of doing business during a pandemic. At the same time, we really value restaurants in our communities -- as part of a vibrant cultural scene, as family-owned businesses and employers, and as community hubs. Connecting nonprofits, businesses, and governments to collaborate toward community solutions is one of Pillar's core activities, so we're glad to help make this happen."
Restaurants awarded grants in the first round include 21 in London and 6 in wider Middlesex County (County locations indicated in parentheses):
The Morrissey House
The Green Window
Locomotive Espresso
James' Place Restaurant
The Tea Lounge
MJ's Roadhouse (Lucan)
Curley Brewing Company
Palasad Billiards Limited
Rusty Wrench Brewing Co (Strathroy)
Grace Restaurant
Milos Craft Beer Emporium
Eat.OA!
Willie's Cafe
Momo's at the Market
Blackfriars Bistro
The Village Teapot (Ilderton)
The Gourmet Deli
Cafe Artiste
Village Pantry Restaurant
Sidetrack: A Wortley Café
Grad Club
The Mill Pond Tap and Grill (Dorchester)
Zen'za Pizzeria
Globally Local
Thorndale Family Restaurant (Thorndale)
Malibu restaurant
Salt & Peppers (Strathroy)
Media Note: Please click here for a high-resolution logo and images to promote the fund.
About the Project Partners:
Club House for Chefs
Club House for Chefs provides flavour and menu solutions for Canada's foodservice professionals, offering a wide range of flavourful products in its portfolio, from leading flavour brands like Billy Bee, Cattlemen's, Club House, Frank's RedHot, French's, Hy's, Keen's, Lawry's, OLD BAY, and Thai Kitchen. For menu ideas, trend insights, and more information visit www.clubhouseforchefs.ca or follow Club House for Chefs on Facebook and Instagram.
Club House for Chefs is a part of McCormick Canada's Flavour Solutions division with a focus on the food service industry. McCormick Canada is the Canadian business unit of McCormick & Company. As a global leader in flavour, McCormick has built a portfolio of leading flavour brands that enhance people's enjoyment of food all around the world. Every day, no matter where or what you eat, you can enjoy food flavoured by McCormick. McCormick Brings the Joy of Flavour to Life™.
Pillar Nonprofit Network
Pillar Nonprofit Network strengthens individuals, organizations and enterprises invested in positive community impact. As a regional umbrella organization, we support 600 charities, nonprofits, for-profit and nonprofit social enterprises, social innovators, and social financiers by sharing resources, exchanging knowledge, and creating meaningful connections across the three pillars of nonprofit, business, and government. We believe that a connected network sparks collaboration and helps to build an engaged, inclusive, and vibrant community. Learn more at pillarnonprofit.ca. 
Middlesex London Food Policy Council
The Middlesex London Food Policy Council envisions a robust and thriving local food system that sustains and nourishes all residents while being socially, economically, and environmentally sustainable. It is a forum for stakeholders and residents to discuss local food issues, empowering them to become involved in food system decisions. Learn more at www.mlfpc.ca.
rTraction Canada
rTraction is a digital agency located at the Roundhouse in downtown London. We help companies and nonprofits to connect to their community using digital tools. As a Certified B Corporation, part of our mandate is using business as a force for good. We are excited to support this initiative as part of our mandate to support local businesses. Learn more at www.rtraction.com.
Western Fair District
The Western Fair District (WFD) is a multi-faceted, not for profit, Agricultural Society, based in the heart of London, Ontario. WFD is a member driven organization supported by an extensive group of volunteers and staff. Through its programming and facilities, it is a leading year-round agriculture, entertainment, commercial, sports and recreation destination for residents of the city of London and far beyond, anchored by its signature event, the annual Western Fair. Learn more at www.westernfairdistrict.com.
Media Contacts:
Paul Seale, Membership Engagement Manager
Pillar Nonprofit Network
Cell# 519-859-7672
pseale@pillarnonprofit.ca
Hannah Force, Content and Communications Manager
McCormick Canada
Cell# 443-878-2419
Hannah_Force@mccormick.com
News Topic:
Communications and Marketing
COVID-19 Response
Grants and Funding