At Pillar's Annual Community Connector on April 21, 2021, our past Executive Director, Michelle Baldwin shared two beautiful gifts of thanks to our network: an original poem she wrote called Weaving our Future Together, and a piece of art she commissioned from local fibre artist Kristy Cairns of Joy Fibre Art called Standing Still based on Michelle's poem. Standing Still will be hung at Innovation Works for all to enjoy. We invite you to reflect on these pieces as they resonate for you as we look back with appreciation on all our network has achieved together and the new pathways and possibilities for shared our future.
Weaving our Future Together - Michelle Baldwin
Collective.
A pattern of people from all corners of our community,
Woven together with care and creativity,
Connecting the unravelled threads of our community,
Threads leaning into and around one another.
Weaving.
In and out, between the threads, seeing each thread fully,
Leaning into the loom to see what is possible together,
Interlacing ourselves in the pursuit of reciprocity and artistry,
Community threads are woven together by lifting all.
Embracing.
Unique textures and shared patterns,
Sensing the rhythm and flow of what is needed most,
Simply by interlacing intentionally,
Everchanging in its perceived tightness,
Finding our way through failure and darkness.
Sitting still.
Considering where to weave next,
Spinning only to emerge more tethered and vibrant,
There are edges unknown in this pursuit of imagination,
There are sharp edges in this pursuit of equity and belonging.
Trust.
We will continue to create beauty together.
Belief. 
In our potential as a community to transcend, to transform,
To receive the gifts from generations to come, 
To weave our future together. 
Standing Still - Kristy Cairns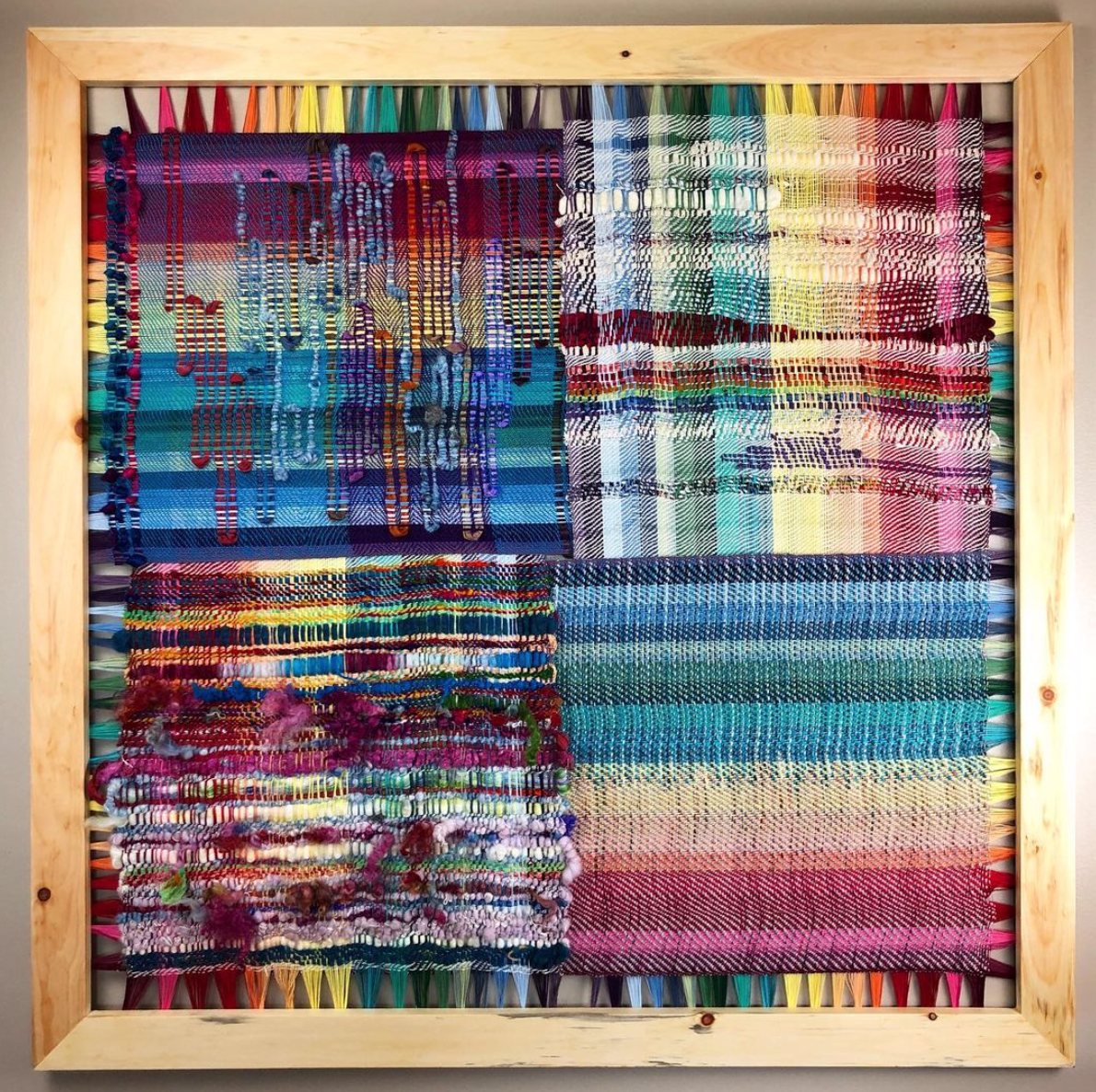 Artist Statement
As a Fibre Artist, my goal is to balance technique and imagination on the loom and spinning wheel. Finding my own voice in the messy creativity of colour, pattern, texture and materials that become unique pieces of textile or wearable art.

Weaving is an ancient craft. Full of the work of women across cultures and generations. It has been used to fearlessly tell stories, clothe and protect those we love, delight with colour and creative expression and even communicate, subvert and educate through pattern and sequence.

I am attracted to the process of weaving. Taking a thread, wrapping, winding and organizing it into many, adding tension and and strategy and ending up with a strong, functional and complicated fabric. In this medium, red and blue threads become purple to the eye as they interlace. What looks flimsy and precarious up close, is strong and secure as each thread locks in and supports the next. I can't help but see our humanity and connection to each other and the world around us in each piece I create.

When I weave or spin, I am lost in the movement and rhythm of the shuttle or wheel. Counting the pattern is like breathing in meditation. Suddenly what starts as the frustrating, precise work of setting up a loom becomes absolute stillness of the mind as your hands and feet do the work.

All of my work explores colour and texture with conscious intention to use sustainable, natural fibres, locally sourced as much as possible.

This piece, created with my Somewhere warp series is inspired by Michelle's words. Visually tackling the challenges of teamwork, the beautiful messiness of change and growth, and belief in a vibrant, collaborative future. All the wonderful ways Pillar has woven a community of nonprofits, creators and risk-takers into this beautiful community.