Camp Kee-Mo-Kee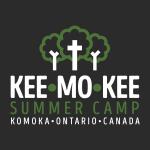 Camp Kee-Mo-Kee is a not-for-profit children's camp located in Komoka, Ontario. Situated in a beautiful 20-acre forest, Camp Kee-Mo-Kee is an overnight camp affiliated with the United Church of Canada offering a dynamic and enriching camping experience for girls and boys aged 6-16.
Specializing in outdoor education, our program and facilities create a sense of community and belonging with each other and the environment. Campers participate in such traditional camp activities as crafts, swimming, and nature hikes. We also boast a wealth of creativity and team building activities that include sports & games, arts, and a low ropes course. Campers may participate in an offsite camping and/or canoe trip depending on age and program.
Camp Kee-Mo-Kee is an inclusive camp, partnering with Reach for the Rainbow to bring children with special needs to camp.  Originally founded as a summer camp, Camp Kee-Mo-Kee has grown to include a school group program in May-June; a rental program; and a day camp for PA day activities.