Camp Kee-Mo-Kee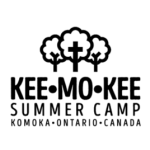 Camp Kee-Mo-Kee is a not-for-profit summer camp affiliated with the United Church of Canada and offers enriching and engaging overnight and day camp programs to our community. It is a place where campfires are a daily ritual and songs are plentiful. This is a place where new experiences abound, treasured memories are forged and lifelong friendships are established.
Each summer, Camp Kee-Mo-Kee welcomes hundreds of campers to our site to experience the wonder that summer camp presents. From camper, to Leaders in Training, Counsellors in Training, and then, as part of our Summer Camp Team, our camp encourages children and youth to be their best selves, explore new opportunities and develop into leaders, both at camp and in the community.
In addition to our overnight summer camp, our Spring Program Team offers nature education and outdoor fun each spring. We also invite community groups, schools and churches to rent our facility in May,  June and September. Our generous supporters include community organizations and individual donors of time and resources.
Even though Camp didn't operate in 2020 we were busy getting ready to welcome everyone back to a revitalized Camp Kee-Mo-Kee!! Program restructuring, community programming, revamped team training, building upgrades, site enhancements and food service improvements will be debuted in our 2021 season! With the leadership of Jill Hodgins, our Executive Director, we expect to see consistent and intentional camp development for years to come.