Why We March LGBT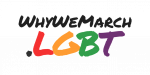 We are a group of likeminded individuals working to help improve the daily lives of those in the LBGT2Q+ community.
​
We originally formed to create educational resources and displays that could be used at events to help educate the public as well as LGBT2Q+ community on issues affecting them. Since then we have been discussing the opening of a dedicated centre within London in which we could deploy a more diverse amount of programs and services.
​
We are currently registered as a Canadian Not for Profit with the number 781882402RC0001.