-----------------
REGISTRATION IS CLOSED!
 We have reached capacity in the overall series but there are still a few spots available in the individual sessions - Financial Fitness, Build Your Best Board and Board Chair and ED/CEO Relationship. Please register on those individual pages. 
 Thank you to everyone who has invested in this professional development opportunity. We will be sending out an email soon to all registered participants to let you know more details. 
 You can email education@pillarnonprofit.ca if you would like to be added to the waiting list. We will only email you if a spot becomes available. 
 We run the All About Boards program every fall, so if you would like to receive our emails to be notified about the upcoming program and other board governance workshops SIGN UP HERE. 
 Did you know that we also offer customized board governance training? If you are interested in having us customize a training opportunity for your board and/or team reach out to consulting@pillarnonprofit.ca and learn more about Pillar's Impact Consulting. 
---------------- 
2023 will be the 12th consecutive year for
our All About Boards Program! 
Please note that this series will be offered online, it will not be recorded.
]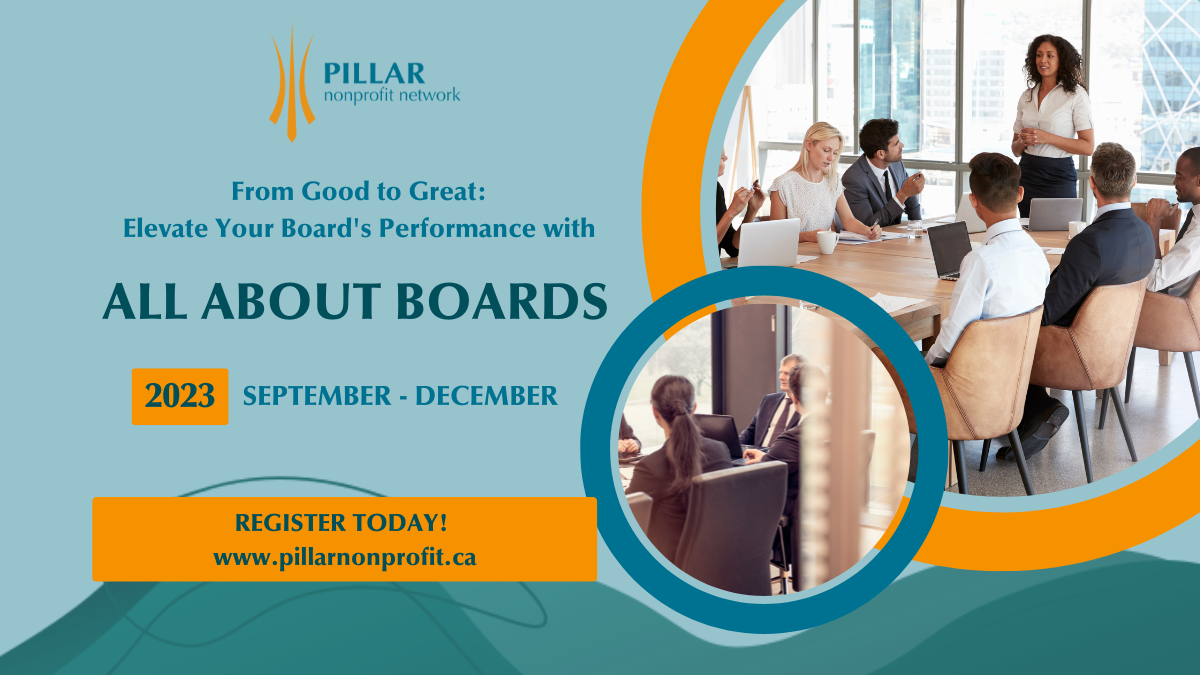 ----------------------
Are you looking to bring more clarity to your board's roles and responsibilities? 
Are you looking to strengthen your board's effectiveness?
Would your board benefit from a strengthened vision for the future?
Does your board have the skills and representation it needs to do its work?
----------------------
For all nonprofits, the Board of Directors plays a critical role in making strategic decisions that help to advance an organization's mission and positive impact. For board members to fulfill this role, it is crucial that directors and staff are trained in the responsibilities and demands of effective governance. 
The All About Boards program is designed to provide you with the foundational elements to help you govern effectively while introducing you to emerging issues in board governance. This training provides actionable resources and guidance so nonprofit organizations can move their governance from good to great.
Learn what every board director should know:
Characteristics of high-performing boards and how you can enhance the performance of your own board
Frameworks and best practices for effective governance 
Key financial accountabilities and responsibilities associated with the role of a director
How to attract, recruit, and retain the best boards
How to recognize strategic opportunities and risks
Program benefits:
Increased confidence to carry out your role as a board member
Increased clarity on the roles of board members versus the roles of staff and operational volunteers
A more engaged board and stronger alignment with the organizational mission and vision
Tools to increase the effectiveness of your board meetings
Participants will receive:
Presentations by subject matter experts, including resources and tools after each session
An opportunity to build a professional network of board contacts
A professional development opportunity that can help build your resume
A certificate of completion (for those that attend all 4 sessions) 
LEVEL:  Beginner -  Intermediate
WHO SHOULD ATTEND?
Board members (experienced or new) of a nonprofit or charity looking to strengthen your board's effectiveness
Anyone looking to learn more about board governance and join a board
Executive Directors or CEOs who would like to build on your boardroom skills and update your awareness of emerging governance issues and trends
Staff that supports a board
We encourage organizations to enroll both board members and their CEO/Executive Director (or another senior leader) to ensure maximum benefit and impact. Past participants have included a dynamic mix of participants from large, medium, and small nonprofit organizations.
-------------------
2023 ALL ABOUT BOARDS SCHEDULE
-------------------
Click on each session for a full description and registration details for individual sessions.To register for the full series stay on this page.
SESSION 1: Board Fundamentals - September 27, 9:30 AM - 12:00 PM 
SESSION 2: Financial Fitness - October 11, 9:30 AM - 12:00 PM  
SESSION 3: Build Your Best Board - November 15, 9:30 AM - 12:00 PM
SESSION 4: Board and ED/CEO Relationship, December 13, 9:30 AM - 12:00 PM 
-- All sessions run from 9:30 AM - 12:00 PM (Eastern) --
NOTE: You may register for the full series (all 4 sessions) or individual sessions.
You must attend all 4 sessions to obtain a completion certificate. 
This series is being offered ONLINE. It is NOT being recorded. 
ADDITIONAL INVESTMENT INFORMATION:
Additional Nonprofit Member Discount Rate
Are you a nonprofit member organization with Pillar and have an operating budget of under $100,000? You may be able to save an additional 50% off the registration fee on top of the member fee. 
Learn if you are eligible for the NONPROFIT MEMBER DISCOUNT RATE.
Group Discounts
Group discounts are available for groups of five or more attending from an organization.  Please email sgergich@pillarnonprofit.ca for more information. 

Generously Supported by the City of London

Thank you to our 2023 Learning & Development Sponsors:
Western Continuing Studies and Fanshawe Employment and Student Entrepreneurial Services/Corporate Training Solutions