As nonprofits and social enterprises navigate the ongoing COVID-19 crisis, there are a number of key issues leaders should be thinking about, as well as steps they can take to not only react to severe financial shocks now but also reshape their finances and plan for recovery.
The uncertainties of the current environment serve as a powerful reminder to decision-makers of the need for risk management and crisis planning. Organizations have to be predictive and proactive in their decision-making to preserve sustainability and build enterprise resilience.
In the second session of this workshop series we discussed:
1. Strategic exploration prompts
What does our community value about us?
What do our partners value about us? 
What would happen to the community if our organization no longer existed? 
How can our organizations add the most value to our community? 
What unintentional barriers are we creating or supporting?
Why does your organization exist?
2. Reflect, rethink, redesign
Reflect: Understand the needs and vision of your clients, partners, and key stakeholders. Reflect on your current state, the bias in your work and listen to what you are hearing. 
Rethink: Challenge your organization by asking deep strategic questions. Question your work, it's intentions and impact. 
Redesign: Design multiple future scenarios using practical tools. Assess these scenarios based on financial viability, potential impact, human resources, etc.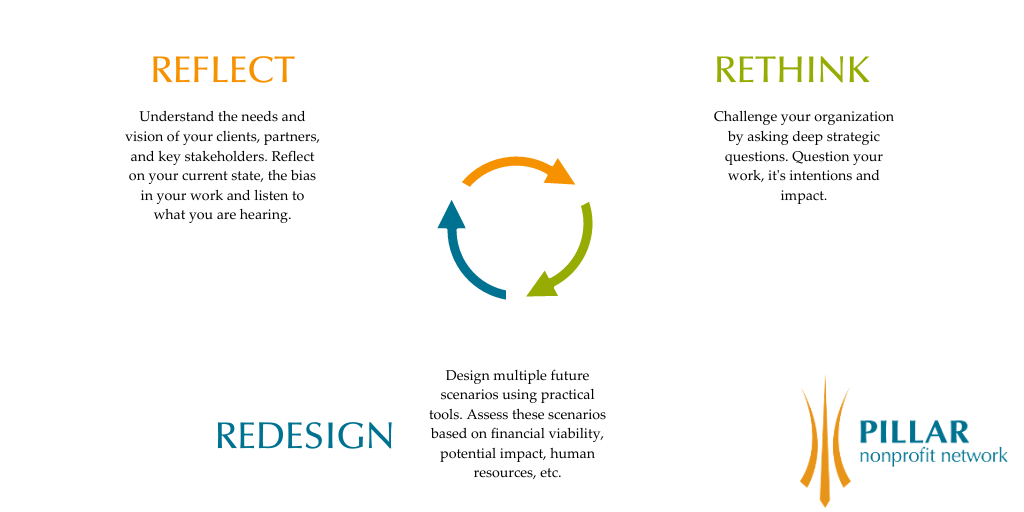 3. The Adaptive Cycle
"The adaptive cycle is a model of natural patterns of change in ecosystems and eco-social systems. It consists of four distinct phases: Growth,  Conservation, Creative Destruction, and Germination." Where in the cycle is your organization? What can you let go of? Source: https://bit.ly/2ZuqTSE
4. What is your "north star for now"?
Move forward on your current vision while staying flexible enough to adapt
Recognizing your organization isn't going to change overnight (nor should it!) 
5. Reimagining the role of boards
Equity and inclusion lens
From "How do we make boards more effective?" to "How do we govern more effectively"
How do we challenge deep rooted assumptions of the way boards work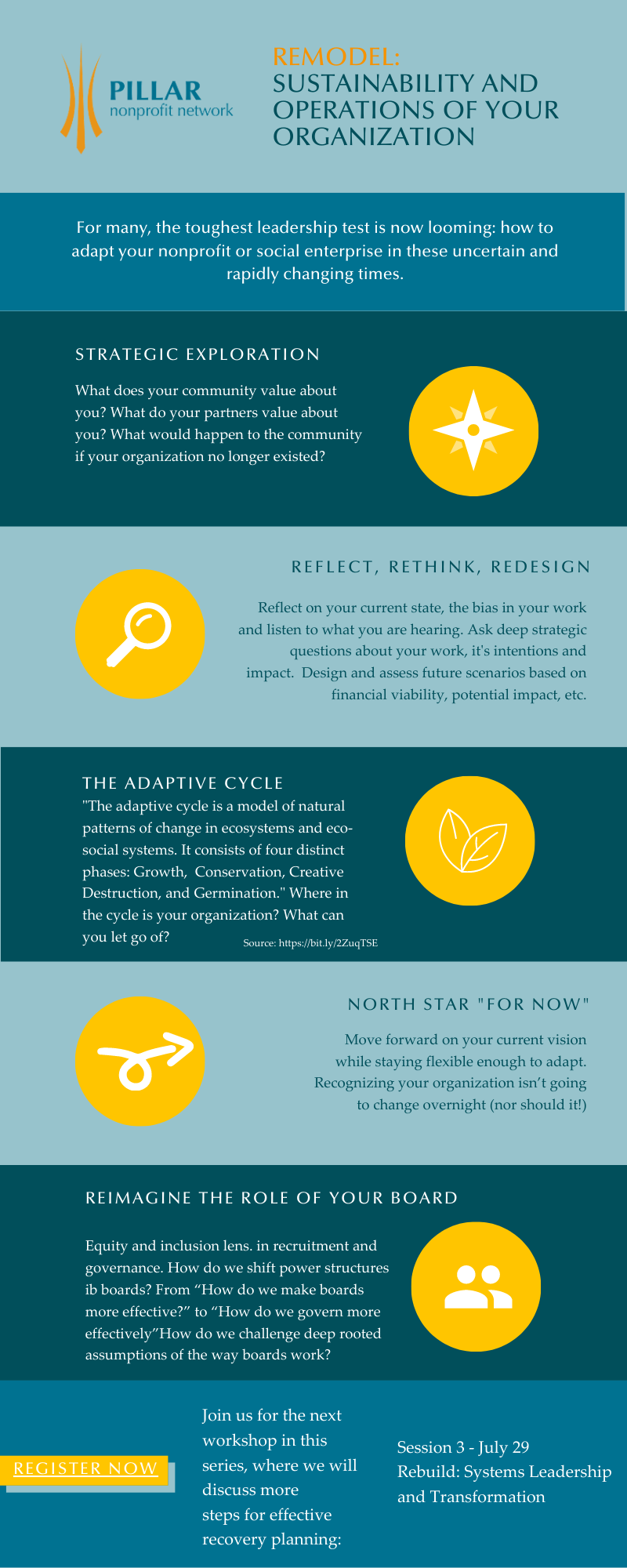 The information in this session was presented by Rachel Berdan (Pillar Nonprofit Network), Julie Forrester (Impact Consulting) and Michelle Baldwin (Pillar Nonprofit Network), as part of a 3 part series called Recovery Post COVID-19: Re-entry, Remodel and Rebuild.
Join us for the next workshop in this series, where we will discuss more steps for effective recovery planning:
Session 3 - July 29
Rebuild: Systems Leadership and Transformation
Full Workshop Series:
https://pillarnonprofit.ca/event/recovery-post-covid-19-re-entry-remodel-and-rebuild/pillar-nonprofit-network