Transform the systems that hurt us into systems that hold us and allow us to heal -
As described in our Systems Leadership & Transformation workshop held this summer as part of our COVID-19 Recovery learning series, we acknowledged that the work of systems transformation is a journey. In the first part of our Systems Log series, we provided an introduction to systems change and explored why it is so important now. 
For part two of our series, we want to share updates on leveraging a global framework like the United Nations Sustainable Development Goals (SDGs) to build momentum and strengthen our network's intention to have positive community impact. At Pillar, we began this work by hosting a workshop in 2018 about the SDGs and their importance. The workshop, which we shared on our Youtube page, has now been viewed over 100K+ times.
In 2020, we partnered with Community Goals London-Middlesex, a local SDG Hub, to begin that journey of exploring how the SDGs could be applied in our organization and across the network. We had our north set by this high-level intention: "To embed and integrate the United Nations Sustainable Development Goals into Pillar as an organization and network."
We approached this work with a few key considerations in mind. First, we knew we needed to be mindful of the workload of this project during a pandemic, while still embracing the opportunity. We needed to ensure that both, past and current programs and projects, were captured in our reporting. Lastly, we wanted to update our impact measurement tools, while going beyond the basics and looking deeply at the overall framework and approach.
When we began, we didn't know the step-by-step process to get there. Once we started to take steps towards this impact measurement approach, it was then we began to see the pathways forward. For those who are interested in integrating SGDs into your impact reporting, we will share our journey as point-form steps to help you find your own way towards action.
Level setting
We determined internal champions for the work and leveraged participation in SDG U Lab London

We held workshops for staff team and board to introduce the framework 

In addition to downloading information, we also wanted to address concerns (see Rabbit Hole at end of blog)

The goal at this stage was to learn about internal SDG initiatives - see this Activities Map for all of our initiatives and their connection to the SDGs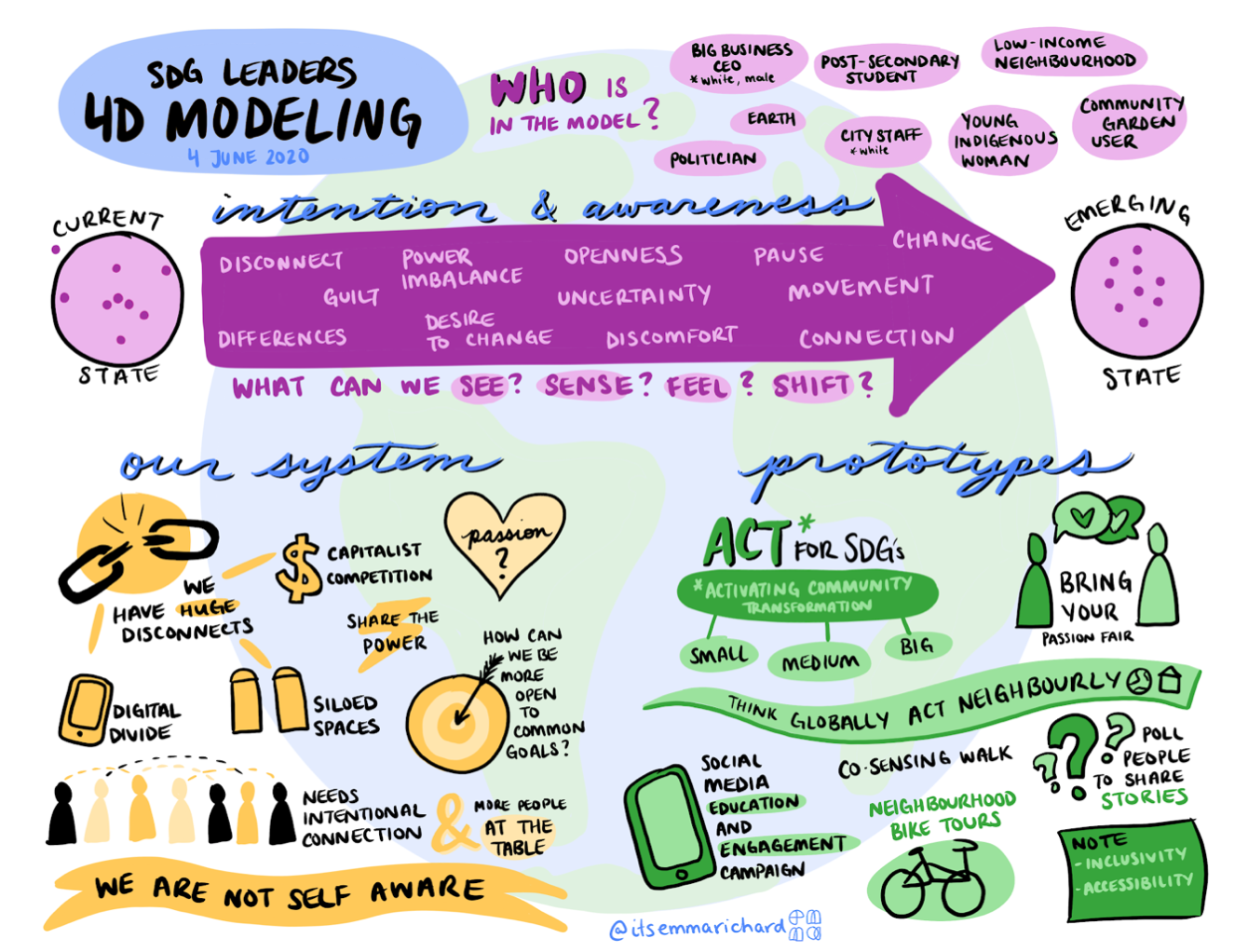 Tools used during the process
Tutorials

Interactive exercises

Forum discussions

Regular check-ins

Network Mapping - view interactive presentation below or full screen






Learnings and outcomes
We have learned about possible applications of the SDG framework that we can implement beyond impact measurement, such as:

We have developed a process for sharing how other organizations can use SDGs sharing our approach through this blog post and staff knowledge

We are now looking at each of our program areas through an SDG lens

We have a deeper understanding of the interconnectedness of our programs 

We can see the two dimensions of SDGs within organizations - both programs & services, and business operations

SDGs are not a one-size-fits-all even among teams within an organization

We did not have enough capacity to conduct a SDG process for Pillar Members
Possible next steps
Keep an open channel with staff and board about SDGs

Take a deeper dive on the Pillar Activities mapping

Mobilize resources and buy-in to implement a mapping exercise with Pillar Members

Fully integrate Pillar impact measurement with SDG local indicators

Share this process with other organizations willing to use SDGs
Overall, it is a lot of work to bring everyone within your organization or network up to speed on the SDGs. Yet once completed, we have found it creates a very clear and robust framework to map our work, connect our impact and collaborate on more intentionally designed programming. 
We are thankful for the support of Luis Patricio, Community Weaver with CommunityGoals.ca, and Charles, Digital Services Coordinator with Pillar, for their contributions to this effort. 
If you want to learn more and connect with us, please email avashist@pillarnonprofit.ca
Rabbit hole - Additional resources
Systems Approach

Localizing the SDG's

SDG Case Studies

SDGs and COVID-19 Rebuild

What are some of the critical views? UN DRIP provides better framework to respect Indigenous communities.