What does it mean to be a Sustainer?
(click image to expand)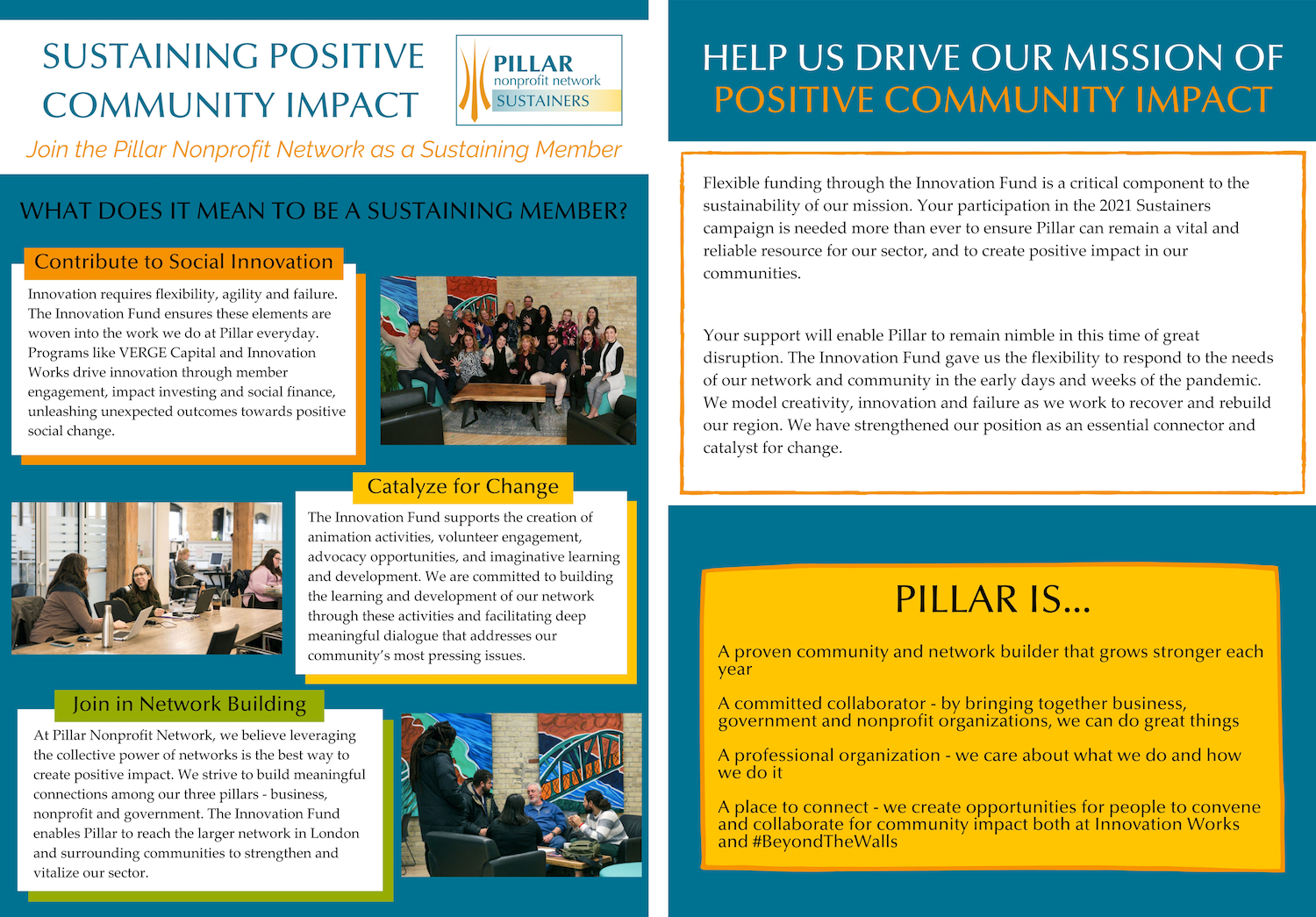 Sustainers play a vital role for Pillar in a number of ways, including:
Providing a public testament that leadership organizations (and individuals) support Pillar's work in building a strong, connected and influential sector.
Giving us the financial flexibility to be able to respond to emerging issues and opportunities.
Providing the financial support needed to maintain accessible fee levels for all groups.


Sustaining Member $1,000
Nonprofits, charities, businesses or individuals who make a generous annual donation to support the daily operations of Pillar and help sustain the valuable role we play in the community.


Sustaining Members receive the following key benefits:
Save 25% on professional development workshops and webinars to boost knowledge and build networks
Receive the latest nonprofit news in our monthly e-newsletter
Save 25% on Pillar events that recognize, celebrate and connect nonprofits, businesses and government
Recognition on our website with a URL link
Announcement of commitment in our e-newsletter
Recognition in our Annual Report
Signage recognition at key events, such as our Annual General Meeting and Pillar Community Innovation Awards
"Proud sustainer" web badge for your website
Learn more about our membership program here 
To learn more or become a sustainer, please contact Lore Wainwright at lwainwright@pillarnonprofit.ca.
 


Thank you to the generous support of our Sustainers
Albert Brulé 
Anonymous
architects Tillmann Ruth Robinson
Barry and Margaret Scott
Brian Meehan
Canada Life 
Canadian Medical Hall of Fame
Canadian Mental Health Association - Middlesex 
Clintar
Connect Dot Management Inc.
Delta Leadership Consulting (Paul Hubert)  
Desiderata Group
Digital Evidence International Inc
Fanshawe College 
GoodLife Fitness
Goodwill Industries - Ontario Great Lakes
Greg Moran and Mindy Gordon
Horizon Leadership Institute Inc. 
John Drake
Kate Graham
Kelly Regan and Tony Vannelli
Kristi Sargeant-Kerr and Jason Kerr 
Larry Myny Investment Group
The Lawson Foundation
Libro Credit Union
London Community Foundation
MacNeill Edmundson Professional Corporation 
Michelle Baldwin 
Norlon Builders London Limited 
Peter and Beth Whatmore
Phyllis Retty 
Randy Sheffield, IG Wealth Management 
Richard Kohn
sagecomm 
Scott and Pamela Jones 
Westminster College Foundation 
Zavitz Insurance & Wealth